Ken Clarke 'totally laid back' over reshuffle rumours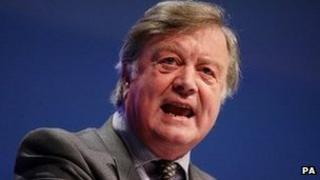 Ken Clarke has denied press reports he is refusing to budge from his current job in an expected cabinet reshuffle.
Prime Minister David Cameron is widely expected to refresh his top team in early September.
Mr Clarke is reported to have told Mr Cameron he wants to remain as justice secretary.
But he told BBC News: "I have never had any conversations of any kind with the prime minister or anyone acting on his behalf about a reshuffle."
He added: "I am totally laid back about a reshuffle and am waiting to see whether or not it affects me."
The 72-year-old Conservative MP is the most experienced member of the cabinet and has held most of the major offices of state in the past, including chancellor and home secretary, in a ministerial career stretching back to the early 1970s.
Penal reforms
The justice secretary was surprised to be handed his current brief when the coalition was formed in 2010 but has since embarked on a major programme of reforms to sentencing and prison policy which aides say he wants to see through.
But his planned reforms have not gone down well with some on the right of his party who regard him as too liberal.
Before coming to power, Mr Cameron vowed not to emulate Labour's habit of frequent reshuffles but he is also under pressure to regain the initiative after a bruising few months for the coalition.
Key players such as Chancellor George Osborne, Foreign Secretary William Hague and Home Secretary Theresa May are expected to keep their jobs in any reshuffle.
The scope of any changes will also be limited by the need to have five Lib Dem ministers in the cabinet, with figures such as Vince Cable and Danny Alexander expected to remain in place.