George Galloway attacked over Assange 'rape' comments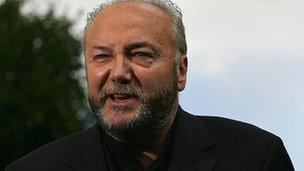 Mr Assange is wanted in Sweden to face allegations - which he denies - of sexual assault made by two women.
The Respect MP said the women's claims were "totally unproven" and the Wikileaks founder had been "set up".
Rape charity Crisis said Mr Galloway's comments were "offensive" and "deeply concerning".
The UK has said Mr Assange must be extradited to Sweden despite being given political asylum by Ecuador.
Mr Assange remains in the Ecuadorean embassy in London, where he has taken refuge, but the UK has said he will not be given safe passage to the Latin American country.
Mr Assange insists that he had consensual sex with each of the women who have made allegations against him.
His legal team has said he wants assurances from the Swedish government that he will not be extradited to the US - where Wikileaks caused a storm last year by publishing thousands of leaked diplomatic cables and correspondence.
Mr Galloway, a frequent critic of the US and UK governments, said Mr Assange's "only crime was to expose, through Wikileaks, malfeasance by states including our own and the US on a truly gargantuan scale".
In a thirty minute podcast, the controversial anti-war MP said it was "an extraordinary coincidence that public enemy number one, Julian Assange, somehow gets inveigled with two women with incredibly complex political backgrounds who just, at the right time, come forward with allegations of sexual misconduct against him".
"Let me tell you, I think that Julian Assange's personal sexual behaviour is sordid, disgusting, and I condemn it," he said.
"But even taken at its worst, if the allegations made by these two women were true, 100 per cent true, and even if a camera in the room captured them, they don't constitute rape.
"At least not rape as anyone with any sense can possibly recognise it. And somebody has to say this."
The Bradford West MP suggested one of the women had claimed she invited Mr Assange back to her flat, had consensual sex with him and then "woke up to him having sex with her again - something which can happen, you know".
On the issue of whether this would constitute rape or not, Mr Galloway suggested that "not everybody needs to be asked prior to each insertion".
"Some people believe that when you go to bed with somebody, take off your clothes, and have sex with them and then fall asleep, you're already in the sex game with them.
"It might be really bad manners not to have tapped her on the shoulder and said, 'do you mind if I do it again?'
"It might be really sordid and bad sexual etiquette, but whatever else it is, it is not rape or you bankrupt the term rape of all meaning."
Rape Crisis said the MP's understanding of what constituted rape appeared to be "factually incorrect" and that if the woman concerned was asleep when the sexual encounter began, consent could not "reasonably" have been given.
"Having had consensual sex with a woman once does not give a man licence to then have sex with her again at any time and in any way he pleases and assume consent is given," a spokeswoman said.
"By the same token, having had consensual sex with someone once does not mean a woman has forever forfeited her right to withdraw or refuse her consent to further sex with that person.
"Sex without consent is rape. Mr Galloway's description of such sexual violence as 'really bad manners' is offensive and deeply concerning." Mr Galloway was not available for comment.
There are differences in the law regarding rape in the UK and Sweden.
In the UK, a rape has been committed if there is intentional penetration without consent and if the accused "does not reasonably believe" that consent has been given.
The maximum sentence is life imprisonment although Rape Crisis says the average sentence is four years.
In Sweden, there are gradations in the legal definition of rape - each carrying different sentences.
The most serious kind, involving major violence, carries a sentence of ten years.
The concept of "regular rape", still involving violence but not of the most extreme kind, and "unlawful coercion", where for instance emotional pressure may have been applied, carry sentences of six and four years respectively.