Alistair Darling urges George Osborne to 'act now' on economy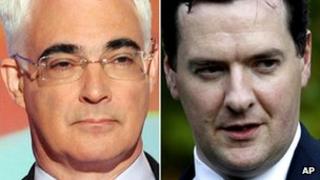 Chancellor George Osborne must change course on the economy now or cause "immeasurable damage", his predecessor Alistair Darling has warned.
In an open letter, published in the Sunday People, the Labour MP claims both Mr Osborne and the Bank of England have "given up on any plan for growth".
He suggests more spending on homes, the railways and a third Heathrow runway.
The government says that Mr Darling presided over the UK's biggest post-war deficit as chancellor.
It also says he failed to regulate the banks effectively.
Mr Darling's open letter to his Tory successor calls for "urgent action to promote growth".
"Your policies since 2010 simply haven't worked, you need another plan - call it plan B, call it whatever you like," he adds.
"But unless you do something now it will be years before we recover."
Mr Darling says low interest rates mean it is "just the time to kick-start some major spending projects".
These should include replacing ageing power stations, investment in rail and Heathrow's third runway.
"And George, you must build more houses - it helped get Britain out of depression in the 1930s," he adds.
"Most parts of the country are short of homes so we could do with tens of thousands more."
And he says the Bank of England should halt its programme of quantitative easing - the process by which more money is pumped into the economy - until it is clear that banks are passing more cash on to businesses through increased lending.
"This money is simply not finding its way out of the bank vaults. So the Bank of England should use its powers to make it less attractive for banks to sit on money," he says.
Unhelpful timing
Mr Darling ends the letter by quoting advice from economist Maynard Keynes that "when the facts change, you change your mind".
"The facts have changed, George. And you must change your mind," Mr Darling adds.
BBC political correspondent Iain Watson said Mr Darling's tone was less partisan than that of shadow chancellor Ed Balls.
For example, Mr Darling says he is sure "Labour is keen to work with you on social care issues and welfare reform".
But with Mr Osborne under pressure from some of his own backbenchers, the timing of the intervention was not helpful, our correspondent added.