Police elections: New chiefs to swear 'impartiality oath'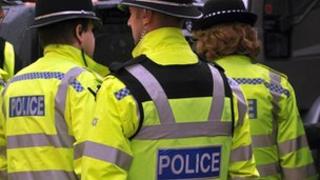 New police and crime commissioners elected by the public will be required to swear an "oath of impartiality", the Home Office has confirmed.
The 41 officials chosen in England and Wales must agree to serve all sections of the public "without fear or favour".
Policing Minister Nick Herbert said it was vital those elected, either on behalf of a political party or as an independent, were "even-handed".
The commissioners will replace the current appointed police authorities.
The first elections for commissioners - who will have the power to determine budgets and hire and fire chief constables - will take place on 15 November.
'Formal commitment'
Ministers have said they want candidates from a variety backgrounds to serve as commissioners, but critics have warned that ex-councillors and MPs figure too prominently on the list of candidates.
The Conservatives and Labour are fielding candidates in most regions although the Lib Dems have only chosen a handful of contenders so far.
A number of current and former Labour MPs are standing for election - including former Deputy Prime Minister Lord Prescott, ex-Welsh Secretary Alun Michael and party chairman Tony Lloyd - as is former Conservative minister Michael Mates.
The government said the compulsory oath would serve as a "formal public commitment" by the officials to the communities that elect them.
The oath obliges the new commissioners to "act with integrity and diligence" and to "serve all the people... without fear or favour".
It also commits those elected to "take all steps" to ensure maximum transparency and accountability in their office.
It also stresses the need to respect the police's operational independence, stressing commissioners must "not seek to influence or prevent any lawful or reasonable investigation or arrest" or "encourage any police action save that which is lawful and justified within the bounds of the office".
'Important symbol'
Mr Herbert said the oath would be "an important symbol" of the impartiality expected of those elected as well as a reminder they were there "to serve the people, not a political party or any one section of the electorate".
"Although police and crime commissioners may stand for a political party, the public will expect them to represent all the people in their area impartially," he said.
He added: "An oath will also underline the particular importance of even-handedness in an office which holds to account the local chief constable and police force who themselves are bound to serve impartially."
The organisation which represents rank-and-file policemen has warned that low turnout in the elections risks seeing "extreme or single-issue" candidates being elected.
At the same time, independent candidates have warned they are at a disadvantage compared with candidates backed by political parties.
Unlike during parliamentary, mayoral and European elections in the UK, information about all those standing in November's polls will not automatically be posted to every household.
Independents say this will disadvantage their campaigns - which are likely to be less well-resourced than those of party-backed candidates - and have called for state-funded mailshots.
The Home Office said details about candidates would be available online and be delivered to those who wanted them. Think tank Policy Exchange has launched its own website with candidate details.