Labour re-instates Police Commissioner candidate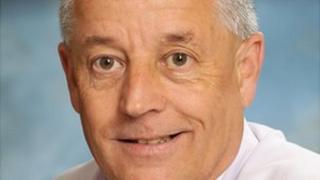 A more seasoned journalist colleague likes to remind me that August is the "silly season".
That's when the news prospects look thin and the news day feels really slow.
The tell-tale sign is usually the first Loch Ness Monster story.
But this August, the headlines have been pepped up wonderfully by the Olympics.
And for me, they have been enlivened by the early stages of an election campaign that's hardly registering on most people's radar.
Teething problems
Elections for our first Police and Crime Commissioners (PCCs) aren't until the middle of November.
They'll be the politicians charged with bringing the local police to account; also hiring and firing chief constables if necessary.
Yet this novel but significant role appears to be having teething problems.
Take Labour's difficulties in Derbyshire.
Its candidate, Alan Charles, fell on his sword. He stood down because of a conviction as a juvenile almost 50 years ago.
He may have been a vice-chairman of Derbyshire's Police Authority for three years and a respected county councillor for 20 years.
But Alan Charles was briefed that his offence ruled him out as a PCC candidate.
Juvenile convictions for imprisonable offences will bar people from becoming a police and crime commissioner.
At that stage, he said: "The Labour Party has only received clarification from the Home Office and the Electoral Commission that juvenile convictions for imprisonable offences will bar people from becoming a police and crime commissioner."
He had been given a 12 months conditional discharge.
The offence? That has yet to be disclosed by Councillor Charles or the Labour Party.
Legal challenge
In an exercise of damage limitation, Labour gave the nod to the media that Hardyal Dhindsa, a Derby City councillor, would be the replacement candidate. And in quick time too.
To get away from it all, Alan Charles headed off for a holiday on the East Yorkshire coast.
But it now transpires that the county councillor didn't have his head in a bag of seaside fish and chips.
He had been consulting with senior Labour legal advisers.
Was the coalition's legislation, which set up PCCs, legally watertight and could it be challenged?
I don't know the answer to that. What is clear now is that Alan Charles is back.
He's been reinstated as Labour's official PCC candidate for Derbyshire.
Hardyal Dhindsa is certainly perplexed, as will be the voters of Derbyshire.
Eligibility questions
Labour now says: "Due to a distinct lack of clarity from the Home Office, we have sought further legal advice on behalf of Alan Charles, and it has become clear that he is eligible to become a Police and Crime Commissioner (PCC) candidate.
"The Labour Party has written to the Home Office calling for them to urgently provide more information and much greater clarity on the interpretation of their legislation for all involved in these elections.
"Therefore Alan Charles is Labour candidate for PCC in Derbyshire."
So Labour is sticking by its original choice of candidate.
It has also thrown a gauntlet down to challenge one of David Cameron's pet projects.
Alan Charles will be back from the seaside soon enough and returns to the campaign trail in Derbyshire.
He could be making news for the rest of August... unless the Loch Ness Monster beats him to it.