David Cameron admits 'fundamental differences' with Nick Clegg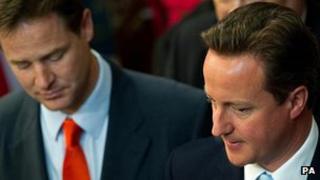 David Cameron says he has "fundamental differences" with deputy PM Nick Clegg over what their coalition deal meant for constitutional reform.
The prime minister's comments on LBC 97.3 reflect coalition tensions following the decision to abandon Lib Dem-backed plans for Lords reform.
Nick Clegg has since said his party would vote against Tory-backed plans to cut the size of the House of Commons.
"There will be arguments" but he worked well with Mr Clegg, Mr Cameron said.
And despite the opposition from his Lib Dem coalition partners, the Conservative leader said he would push ahead with legislation to reduce the number of MPs and change constituency boundaries so they were roughly the same size - moves which are expected to boost the Conservatives' election prospects.
He said: "It's not exactly some radical, novel idea that equal sized seats are fair... that vote will come forward in the House of Commons and... every MP is going to have to ask themselves why are they voting against equal sized seats and a smaller House of Commons?"
There has been some talk that the coalition government between the Conservatives and Lib Dems formed after the 2010 election might not survive, but Mr Cameron said he and Mr Clegg "have a good working relationship - the government is delivering for the country".
He added: 'We are leaders of two different parties - we often don't agree - we can't hide that. There will be arguments and disagreements.
"This disagreement won't get in the way of getting on with what really matters - getting our economy moving and in spite of that disagreement, the coalition government will work and work hard to deliver what people really want and need in this country.'
Mr Cameron said that the dropping of House of Lords reform - after 91 Conservative MPs rebelled against the plans - meant that "instead of wrangling about that for months we can focus on the number one issue, which is the economy".
'Water under the bridge'
He said that there was "a fundamental disagreement here" with Mr Clegg over whether different elements of their coalition agreement were linked.
"I profoundly believe the link was between the AV referendum that we promised to deliver and the boundary changes that I think are right because you should have equal sized seats across the country."
But Mr Clegg believed that there was a link between House of Lords reform and the boundary changes, he said.
The dispute has thrown into doubt coalition plans to reduce the size of the Commons from 650 to 600 - which are due to be voted on by MPs in 2013.
It is thought the proposed changes could result in the Tories gaining an extra 20 seats, although all parties will see seats they currently hold disappear.
Labour have described the boundary changes as "arbitrary" and said Mr Clegg did not oppose them when they were agreed by Parliament.
Mr Cameron rejected the idea that the plans were doomed to failure, saying "there was a lot of water to flow under the bridge" before they came to a vote.