Lib Dems stand firm on Lords reform amid speculation plans may be ditched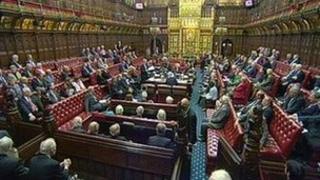 Reform of the House of Lords is "non-negotiable" Lib Dems have said, amid reports Prime Minister David Cameron is to abandon plans for electing members.
Party sources told the BBC the reforms were a "red line", adding "there will be consequences" if they are shelved.
Government sources described press reports that Mr Cameron is to ditch House of Lords reform as "speculative."
However it is understood the prime minister is likely to make a statement on the issue next week.
Liberal Democrats within the coalition government are pushing for Lords reform, including electing 80% of peers and almost halving the total number of members to 450.
But many Conservatives oppose the plans, with 91 MPs rebelling against the government in a vote in July - the largest such act of defiance since the coalition was formed in 2010.
'One more try'
The prime minister told Tory MPs last month he would make "one more try" to push Lords reform through in September when the Commons returned from its summer recess.
A report in the Daily Telegraph said attempts by Mr Cameron to win round rebels in his own party had failed and the reforms would now be scrapped.
This is likely to anger many Lib Dems, for whom a root-and-branch overhaul of the largely appointed Lords is a key policy.
A Liberal Democrat source told the BBC the party would not accept a smaller package of reforms that would see hereditary peers removed, the size of the chamber reduced and peers able to retire.
Neither would the party be "bought off" on the issue, the source added, rejecting a deal on Lib Dems policies such as legislation on party funding or green policies as an alternative to Lords reform.
Labour said the Conservatives were "tooth and nail opposed to reforming and modernising the second chamber".
Shadow justice secretary Sadiq Khan said: "Nick Clegg marched his MPs through the voting lobbies in support of the harsh and unfair policies of this Tory-led Government in anticipation of receiving Lords reform in return. But now Nick Clegg may end up with nothing, ruthlessly exposing his naivety."