Numbers of plastic bags rise for second year in a row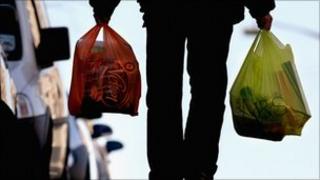 Environmental campaigners are calling for a charge to be made for plastic bags in England after their numbers rose for a second successive year.
Waste reduction body Wrap says shoppers used nearly eight billion of the bags in 2011, up 5% on 2010.
Wales brought in a 5p charge last year and Northern Ireland is to follow suit, while Scotland consults on the idea.
The government said it wanted to work with retailers in England to cut the numbers of bags handed out.
The Campaign to Protect Rural England (CPRE), Keep Britain Tidy, the Marine Conservation Society and Surfers Against Sewage say plastic bags end up littering England's streets and countryside.
They also say bags, which can take 1,000 years to degrade, are harmful to wildlife.
Samantha Harding, CPRE "stop the drop" campaign manager, said bag levies had led to big falls in plastic bag use in Wales.
'Dirty man of Europe'
Dr Sue Kinsey, litter policy officer for the Marine Conservation Society, said: "Single-use bags and plastic bags in particular are a menace... animals get entangled in them and mistake them for food."
Although some retailers - such as Marks and Spencer - charge for plastic bags, the groups want the government to follow Wales and bring in a small charge in England.
A spokesman for the Department for Environment, Food and Rural Affairs said: "We want to work with retailers to help them lift their game to cut the number of bags they hand out.
"We are monitoring the results of the charging scheme in Wales and the outcome of the Scottish consultation on a charge."
Shadow environment minister Gavin Shuker said the latest figures compared unfavourably with when his party, Labour, was in government, saying plastic bag use fell 40% between 2006 and 2010.
He said the coalition "risks turning Britain back into the dirty man of Europe with more carrier bags given out every year since the election".
"The government have failed to set challenging recycling targets for England unlike the Welsh and Scottish Governments, and have slashed funding for Keep Britain Tidy by 90%."
Last year the government said it would look at taking action if the voluntary efforts by retailers failed to cut plastic bag numbers - including considering an outright ban.