Government criticised for keeping Iraq war talks secret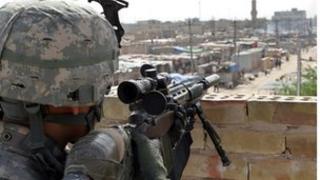 The decision to keep Iraq war cabinet minutes secret is "disappointing", the UK information commissioner has said.
Attorney General Dominic Grieve has upheld Labour's 2009 ruling to exempt the minutes from the FOI laws.
Mr Grieve said it was an "exceptional case" with benefits of releasing the information outweighed by the need to promote "effective cabinet government".
Information Commissioner Christopher Graham said there was "significant public interest" in the matter.
The attorney general has used the power of ministerial veto in order to withhold the minutes of two cabinet meetings held immediately prior to the start of military action in Iraq in 2003.
'Protection'
It is the third time the coalition government has used such a veto to block Freedom of Information laws, Mr Graham pointed out.
In May, Health Secretary Andrew Lansley barred the release of a "risk register" which outlined civil servants' assessment of potential problems with the government's major NHS reforms.
In February, the government retained another veto made by Labour's former home secretary Jack Straw, who decided in 2009 that cabinet discussions on devolution should not be made public.
Cabinet talks are not usually released for 30 years, and Mr Grieve said respecting this convention would "protect the conditions necessary for high-quality decision-making at the highest level in government".
Mr Grieve added that the lead-up to the Iraq war had already received intense scrutiny through public inquiries, parliamentary committee investigations and the publication of the legal advice given to ministers.