Lords communications committee criticises broadband focus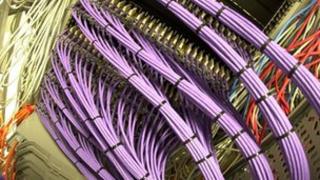 The government's broadband strategy risks leaving many communities behind by focusing on speed over reach of service, a Lords committee has warned.
The UK could miss out if fast internet services are not treated as a key national asset, the communications committee said in a report .
The UK's priority should be to close the digital divide, it added.
But digital minister Ed Vaizey said a "lot of public money" was being spent on extending broadband to rural areas.
The government has promised the best superfast broadband in Europe by 2015.
But the Lords committee said its strategy was misguided and there was "a very real risk that some people and businesses are being left behind, that inadequate access to the internet and all its benefits is actually afflicting their daily lives".
Peers congratulated the government for making enhanced broadband a priority but said it had proceeded from a "flawed prospectus" and become "preoccupied with the delivery of certain speeds".
"The delivery of certain speeds should not be the guiding principle; what is important is the long term assurance that as new internet applications emerge, everyone will be able to benefit, from inhabitants of inner cities to the remotest areas of the UK," they said in the report.
The report calls for the creation of a network of fibre-optic hubs, which would get fast broadband to local communities and businesses when they wanted it.
The peers said broadband should be treated as a vital national asset, like roads, rail and energy.
Conservative peer Lord Inglewood, who chairs the House of Lords Communications Committee, told BBC Radio 4's Today programme a broadband strategy would focus on speed in an "ideal world".
However, he added, money is tight for some and and "different people have different requirement for speeds".
"What we need is a system that enables people to get what they want and pay accordingly," he said.
Liv Garfield, chief executive of BT Open Reach, said she was "surprised" that the report was so critical.
"If you look at it across Europe, we have fantastic coverage, we are the most competitive market and we're seen by many other countries as being the people to follow in terms of broadband access."
In the March Budget, the government confirmed the 10 cities which would become "super-connected" as part of a £100m investment announced in the Autumn Statement 2011.
It said it would also provide an additional £50m to fund a second wave of 10 smaller cities.
Ministers hope that the investments in cities will provide ultrafast broadband coverage to 1.7 million households and high-speed wireless broadband for three million residents by 2015.
'Competitive market'
Mr Vaizey told Today the whole country should have access to a good standard of broadband by 2015.
"There is a very competitive marketplace... in terms of laying fibre to people's homes in two thirds of the country," he said. "Government intervention is needed for the rest of the country."
About £1.2bn in funding from the UK government, devolved administrations and local councils was potentially available, he added, to extend broadband access to remote rural areas and "pockets" of cities currently under-served.
"There is a lot of public money going in to fill this gap."
He added: "In terms of the best superfast broadband in Europe, we don't just want fast speeds. We want the most competitive marketplace and we do have the most competitive marketplace in Europe.
"That includes price as well. There is absolutely no point having super-fast broadband coming past your door if you cannot afford it. We do want competition on price and we have very low prices."
For Labour, Chi Onwurah, shadow digital minister, said: "Ministers need to do more to support the UK's digital future... we need a compelling vision for our broadband future.
"Instead, we have no Communications green paper, no 4G services, and no universal broadband. The Tory-led Government is failing to tackle the growing superfast digital divide."
But employers groups said most businesses in rural areas were dissatisfied with their broadband.
"With the technology we have they should be able to trade overseas, throughout the UK and from town to village," said John Walker, the chairman of the Federation of Small Businesses.
"We know that small businesses in rural and urban areas are looking to the internet to grow and innovate. So it is paramount the government rolls our superfast broadband to rural areas by 2015."