Cameron urges overseas investors to back UK arts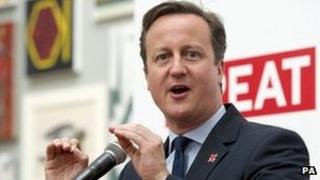 David Cameron has urged overseas investors to back the UK's art, film, television, music and literature.
The prime minister told an audience including the Duchess of Cambridge that "now is the time" to support the creative industries.
He added that the Olympic opening ceremony had shown the country's "incredible" talent, adding that many stars of Hollywood films were British.
The reception was part of the GREAT campaign, to showcase the arts.
Supported by the Founders Forum at the Royal Academy of Arts in London, it was also attended by Culture Secretary Jeremy Hunt and Apple designer Sir Jonathan Ive.
'Extraordinary'
In his speech, Mr Cameron said: "I think a very simple message today is that if you are involved in the creative industries, now is the time to come and invest in Britain.
"I think you can see that from the people who are in the room tonight. You can see it from that incredible opening ceremony that Danny Boyle and Stephen Daldry and others produced.
"Also, I think you can see it in some of the extraordinary facts about the creativity of British art, television, music, drama, literature and cultural industries."
Mr Cameron added: "Not many people know this but, if you want superstars, of course all the big actors currently playing Batman, Spiderman or Superman are all actually British.
"If it's storytelling you are after, three of the best movie franchises of all time - Bond, Lord Of The Rings and Harry Potter - are all British.
"If it's music you're after, of course Adele had the bestselling album this year.
"If it's television you're after, you need look no further than the fact that the president of the United States' favourite TV programme is overwhelmingly starring British actors, in of course Homeland."
Fashion designer Stella McCartney also attended and was praised by Mr Cameron.