Postcode lottery? How EU entered historic Conservative address
By Gavin Stamp
Political reporter, BBC News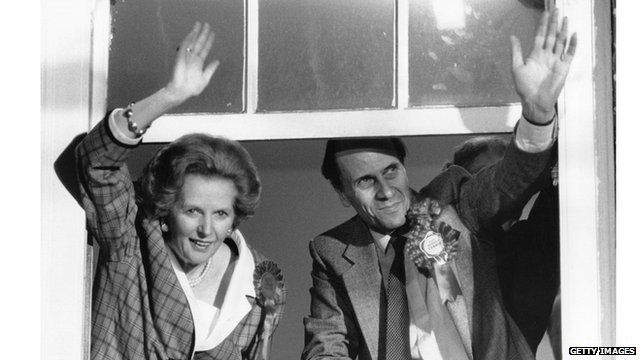 In the 1980s, it became famous as the place where the Conservatives plotted and then celebrated a string of election victories.
Images of Margaret Thatcher waving at supporters and the media from inside party headquarters at 32, Smith Square, were among the most symbolic of the time.
But anyone heading to the building in Westminster these days will find things have changed a bit, not least when it comes to its postcode.
For the past two years, sat-nav instructions for the address have read SW1P 3EU.
It's a clue to the fact that the Conservatives' former stronghold has been occupied since August 2010 by the European Union.
But, despite any suggestions to the contrary, it seems that the change in the building's postcode was not part of an effort by Brussels to rewrite history.
The Conservatives vacated the building in 2004 - which they had occupied since the late 1950s - believing it was too cramped to run a modern election campaign.
They briefly moved to premises nearby before ending up in Millbank Tower, the same complex from which Labour ran their successful 1997 election campaign.
As for Smith Square, the building remained empty for six years and changed hands several times before it was bought in 2009 to become the UK office of the European Commission and European Parliament.
According to the Royal Mail, the building's old SW1P 3HH postcode was "unique" because of the large amount of mail it received and was "banked" when the Conservatives moved to their new address.
The postal service says it does not reissue old postcodes so, when Europe House opened for business, a new address had to be found.
So how did the Royal Mail go about the process?
A Royal Mail spokesman said there were still hundreds of postcode combinations - from AA to ZZ - that could be allocated within the postcode sector covering Smith Square.
"Royal Mail does not charge for the allocation of postcodes and the European Commission postcode was chosen by one of the address development team, as the most suitable, out of the remaining postcodes that were available for use from the existing range."
So the choice of a personalised postcode was not a coincidence, but did the Commission have any say over the decision? Emphatically not, they say.
"If you are asking have we requested it or insisted on having a postcode like that, we have not," a spokeswoman says.
The old postcode had become effectively obsolete, she stresses, and the Royal Mail liked organisations to have postcodes linked to their names which were more likely to stick in correspondents' memory.
A quick trawl of corporate post codes would clearly seem to bear this out.
Among the businesses with personalised addresses include The Sun (E98 1SN), the Sunday Times (E98 1ST), British Telecom (DH98 1BT) and British Airways (UB7 0GB).