Denis MacShane urges 'all working class' MP shortlists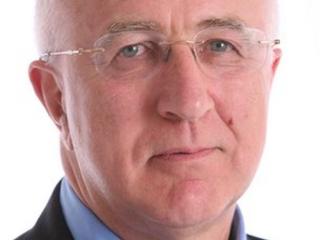 Only people on the minimum wage should be allowed to stand for Parliament in 10% of seats to make politics more representative, a Labour MP has said.
Denis MacShane said the backgrounds of MPs from all the main parties at Westminster had become far too narrow.
Party leaders were keen to talk about recruiting more working class or ethnic minority candidates, he argued.
But it would take something as drastic - and potentially unpopular - as all-women shortlists to make it happen.
"The country desperately needs new political ideas, but the intellectual reservoir from which we draw our political leaders has become a paddling pool, when what we actually need is a raging torrent to get the country going again," he told BBC News.
Mr MacShane, an Oxford university graduate who worked as a journalist before becoming MP for Rotherham in 1994, said there needed to be fewer candidates with his kind of background in the future.
'Huge resistance'
The problem for Labour, he argued, was that the industrial working class, which had traditionally supplied many of the party's candidates through the trade union movement, had all but disappeared.
And there was now a large swathe of low paid workers who were not properly represented in Parliament.
There had been a similar narrowing of social background on the Conservative benches, he added.
"There would be a very good case for all parties to give 10% of their seats to people on the minimum wage," said the former Europe minister.
Such a policy would lead to more MPs from ethnic backgrounds, single mothers and other under-represented groups, argued the Labour MP, but he added: "Special attention should be paid to the lack of people who come from a working class background."
And minimum wage shortlists would be a relatively straightforward way to achieve greater representation for working class people, given the difficulty of defining what the term "working class" meant.
He said there had been "huge resistance" to all-women shortlists within the Labour Party when they were introduced by Tony Blair in the 1990s but they had succeeded in boosting the number of female MPs and had been "copied by the Conservatives with their A-list".
The parties would have to agree to introduce all minimum wage shortlists voluntarily rather than being forced by law, he added.
The main minimum wage rate for workers aged 21 and over is £6.08 an hour.
'Social mobility'
According to research by the House of Commons Library, there are now just 25 former manual workers on the Commons benches - 75% fewer than when Margaret Thatcher came to power in 1979. All but three are on the Labour benches.
The number of MPs with a professional background has gone down from 45% to 35% over the same period - but political advisers and other insiders have increased from 3% of MPs in 1979 to 16% in 2010.
Prime Minister and Conservative leader David Cameron, Labour leader Ed Miliband and Lib Dem leader Nick Clegg are all Oxbridge graduates who spent time working as political advisers before becoming MPs.
All have said they want to increase the diversity of MPs, with Mr Miliband pledging to recruit more working class candidates.
Shadow Cabinet Office Minister Jon Trickett told the Times last week: "The Labour Party should be the engine of social mobility.
"It's particularly important that our MPs reflect all the different parts of our country… in the past, there were routes into Parliament for manual workers, engine drivers or miners."