David Cameron hosts the Queen at Downing Street lunch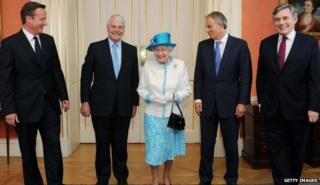 Prime Minister David Cameron and his wife Samantha have hosted a special lunch for the Queen at Downing Street in honour of her Diamond Jubilee.
Former PMs Tony Blair, Gordon Brown and Sir John Major were guests but Baroness Thatcher, who has retired from public life, was not present.
The UK has been celebrating the Queen's 60 years on the throne with a series of events over the past five months.
She addressed both Houses of Parliament in March.
The prime minister and his wife greeted the Queen, wearing a pale blue dress and turquoise hat, and the Duke of Edinburgh outside 10 Downing Street.
Dame Norma Major and Sarah Brown joined their husbands at the event but Cherie Blair is working abroad and could not attend.
Deputy Prime Minister Nick Clegg and his wife Miriam, as well as Cabinet Secretary Sir Jeremy Heywood, were also present at the lunch.
Mrs Cameron wore a turquoise dress. Sir John and Mr Blair opted for blue ties, while Mr Brown chose crimson and Mr Cameron purple.
Guests were served salmon, roast duck breast with potatoes and seasonal vegetables and trifle.
Mr Cameron is the 12th prime minister of the Queen's reign. Winston Churchill was in Downing Street when she acceded to the throne in 1952.
The Diamond Jubilee has been a celebrated with local, national and international events.
In early June there was a four-day bank holiday weekend, over which 1,000 ships take part in a River Thames pageant and a royal carriage procession through London.