David Cameron 'should learn from Thatcher not Blair'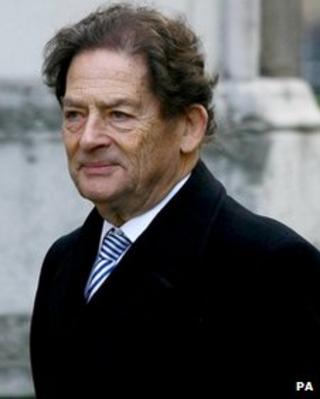 David Cameron should stop "modelling himself" on Tony Blair and learn instead from Margaret Thatcher, a former Tory chancellor has claimed.
Lord Lawson told the BBC Mr Blair was a "bad role model" and the prime minister was better off trying to emulate Lady Thatcher's style of leadership.
He also urged George Osborne to give up his role as Tory election strategist.
Mr Osborne splits his time between the Treasury and party duties, prompting Labour "part-time chancellor" taunts.
Mr Cameron has faced calls from backbenchers for a more distinctively Conservative approach on issues such as Europe and welfare amid recent grumblings about the coalition's direction and concessions to the Liberal Democrats.
'Heir to Blair'
One MP suggested recently that Mr Cameron needed to hone his management skills and to widen his circle of advisers to include people with different political backgrounds and opinions.
Lord Lawson told BBC Radio 4's The Week in Westminster that Mr Cameron should follow the example of Lady Thatcher - who was renowned for her assertive leadership and forthright views.
"There are basically two models of long-term premiership in recent memory," he said.
"David Cameron has modelled himself very much on the Blair style. I think the Conservative backbenchers prefer the Thatcher style. I do think he has a lot to learn from her."
Despite frequent clashes before his 1989 resignation, Lord Lawson remains a strong admirer of Lady Thatcher.
When Mr Cameron became Conservative leader in 2005 and set about trying to modernise the party, he reportedly described himself to political journalists as the "heir to Blair".
It was reported earlier this year that Mr Cameron had sought the former Labour prime minister's advice since taking power, mainly on foreign issues, and invited him to Chequers.
No 10 insisted claims Mr Blair is influencing Mr Cameron as "over-blown".
But Lord Lawson said the prime minister should not be aping the style of his Labour predecessor - known for his "sofa-style" of government in which key decisions were made by an informal group of close advisers.
"I think Blair is a bad role model except in that particular time in history changing the Labour Party which had to be done.
"He was brilliant at that but I do not think that applies to the Conservative party at all. I don't think there is any read across."
Second job
The former chancellor also had advice for the current occupant of No 11 Downing Street, urging him to drop his secondary role as the Conservatives' chief political and election strategist.
Labour has branded Mr Osborne the "part-time chancellor" as a series of Budget U-turns and the double-dip recession has increased the pressure on him.
"I think it might well be sensible now for him to give up this central strategic job which does involve chairing meetings and so on," Lord Lawson said.
"I do think it might be sensible to give up the formal role and focus exclusively on his job as chancellor of the exchequer which is a tremendously important job."
Mr Osborne, he said, should remain at the Treasury in a future reshuffle - predicted for the autumn - and his "good political antennae" meant he should not be "excluded" from political decision-making.
But he added: "I think his last Budget was not his biggest success. I think he should continue in that job but I do think as you suggest that it would be sensible for him to set aside his second job."