London 2012: Organisers clarify rules on branded clothing for spectators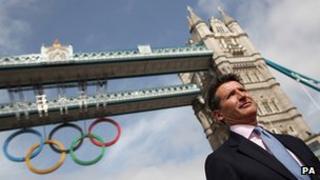 Only large groups of spectators wearing "visibly branded" clothing are at risk of being banned from Olympic venues, 2012 organisers have said.
Locog was forced to clarify its stance on the issue after its chair Lord Coe told the BBC anyone wearing a Pepsi T-shirt may not be allowed access.
Coca-Cola and other sponsors had spent huge sums on the London Games, he said, and their rights must be "protected".
Organisers have pledged to clamp down on attempted "ambush marketing".
'Legacy targets'
Under International Olympic Committee (IOC) rules, tier one "worldwide partners" - such as McDonald's and Coca-Cola - get sole global marketing rights within their sector, including being able to sell their products and services exclusively within Olympic venues.
Firms such as Adidas, British Airways and Lloyds TSB are 2012 Olympic partners, granting them exclusive marketing rights within their product sector in the UK.
Other 2012 supporters and suppliers with exclusive contracts include Heineken, Cadbury and Deloitte.
In an interview on the Today programme, Lord Coe said the London Organising Committee (Locog) had to raise a "mountainous" amount of money - some £2bn - through sponsorship and the rights of its partners during the event must be protected.
He was pressed by presenter Evan Davis about whether he could, for example, attend an Olympic event wearing a Pepsi t-shirt.
"No, you probably would not be walking in with a Pepsi T-shirt because Coca-Cola are our sponsors," he replied, adding that Coca-Cola had invested millions of pounds both in the Games and grass-roots sport.
In an increasingly testy exchange, the BBC presenter then quizzed Lord Coe on whether he could "go in with Nike trainers on?".
"I think you probably could...Let's sort of put some reality in this. You probably would be able to walk through with Nike trainers. Does that satisfy you?"
Locog later issued a statement clarifying its position, saying that "any individual coming into our venues can wear any item of clothing, branded or otherwise".
It said: "The only issue is if large groups come in together wearing clearly visible branding."
Staff issued with Adidas trainers as part of their uniform would be expected to wear them, it added.
'Straight bananas'
Organisers have said suggestions that police officers would not be allowed to eat crisps from Walkers packets and would have to transfer them to clear, unbranded bags, were "complete nonsense".
Asked about this, Lord Coe said "we are slightly in the territory of straight bananas and other things, a reference to scare stories about petty EU rules on fruit and vegetables.
Critics have said the enforcement of branding rules at the Beijing Olympics was too heavy-handed and have called for a relaxation in the approach for the London Games, which begin in a week's time.
Under IOC rules, there are restrictions about advertising in areas adjacent to Games venues, in part to prevent "ambush marketing" by firms which are not sponsors.
Traders require authorisation from Locog to operate at 27 "event zones" - public areas stretching about 200 metres from stadiums and sports facilities.
Locog has insisted that "business as usual" advertising, such as shop signs and in-store advertising will not be affected.
One MP has called for British firms and other suppliers to be allowed to sell their beer in Olympic venues, arguing it would give a boost to the UK economy.