Communications Data Bill creates 'a virtual giant database'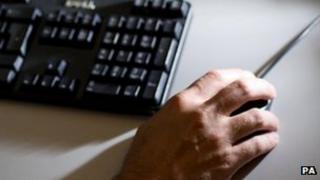 The government's Communications Data Bill will effectively create a giant database of everyone in the UK's web activities, MPs and peers have heard.
The bill would force telecoms companies to store details of internet use for a year to help combat crime.
Home Secretary Theresa May has stressed that the data will not be held on a single government database.
But security experts told the cross-party committee examining the bill it would operate in a similar way.
The communications bill was published in draft form earlier this year and is being examined in detail by a committee of MPs and peers before it begins its passage into law.
The detailed scrutiny of the bill was promised amid controversy when the measures were first floated. Some modifications to the bill may be made as a result of the joint committee's recommendations.
The previous Labour government was forced to scrap plans for a single database of telecoms records in 2009 after a public outcry and criticism from the Conservatives and Lib Dems.
The coalition has insisted it does not want go down the same route.
But its plans to beef up data retention include a "request filter", which could allow police officers, tax inspectors, the security services and other officials to trawl for information across privately-owned databases in order to build up a picture of suspects' internet browsing habits, contacts and movements.
"By using this filter mechanism it will look and feel the same as if there was a great big database behind the scenes that you could dip into to pull the particular information you want," said Dr Julian Richards, co-director of Buckingham University's centre for security and intelligence studies.
He said filter was "a slightly inaccurate word" for what was being proposed and search engine would be a "a more accurate description".
'Fishing expeditions'
But he said it "made sense" from an operational point of view for investigating officers to be able to ask the system "quite complicated questions" about people's "communications behaviours and patterns".
"It doesn't seem to make sense to make that as difficult as possible... that just reduces our intelligence capability, to the benefit of terrorists and criminals that we're going after."
But civil liberties groups giving evidence to the committee suggested the filtering system could be used to mount "fishing expeditions" rather than targeted surveillance - something the Home Office has explicitly stressed will not happen.
Nick Pickles, director of Big Brother Watch, said: "The filtering provisions are so broadly worded and so poorly drafted that it could allow mining of all the data collected, without any requirement for personal information, which is the very definition of a fishing trip."
Internet freedom campaigner Jim Killock, of the Open Rights Group, said officials would be able to build up a complex map of individuals' communications by examining records of "their mobile phone, their normal phone, their work email, their Facebook account and so on".
He said this could compromise journalistic sources, deter whistleblowers and increase the risk of personal details being hacked, as they would be held on a variety of databases with multiple access points.
The campaigners called on the committee to recommend scrapping the data communications bill, rather than making suggestions to improve it as they have been tasked to do by the government.
'Lack of trust'
Rachel Robinson, policy officer for Liberty, said: "The blanket retention of data about individuals as opposed to targeted surveillance, with which we have no problem, should not be a feature of a liberal society."
The UK is thought the be the only country in the world attempting to gather communications data in this way, although the bill is underpinned by EU directives and the methods included in it could eventually be adopted across all 27 member states, the committee was told.
Professor Anthony Glees, director of Buckingham University's centre for security and intelligence studies, said that although German Chancellor Angela Merkel had said Germany needed similar legislation it was "way behind" the UK in implementing them.
"For historical reasons, not just because of the Nazi past, but because of the Stasi past, this is a very much more difficult issue in the Federal Republic than it is in the United Kingdom, where we look back with pride on our long history of democracy."
He said concerns about the growth of a "surveillance state" and warnings about a "snooper's charter" in the UK were more to do with a "disturbing lack of trust in the institutions and people charged with looking after our security" than what was actually being proposed in the data communications bill.
"This is about lawfulness in a mature liberal democracy," he told the committee, and it made sense for law enforcement agencies to be allowed to keep pace with technological developments to combat terrorism and serious crime.
"I trust in the people we are charging to do this," he told the panel, although he stressed more "oversight" was needed in some areas.