Ministers 'confident' over aircraft carrier fighter planes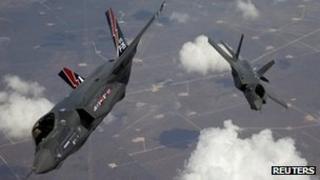 The government has said it is confident there will not be a second U-turn on the type of fighter planes to be used on the navy's new aircraft carrier.
In May, the coalition said it was changing from its proposed "catapult and trap" planes to jump jets.
But newspaper reports say problems with the US-led Joint Strike Fighter project could force another change on the UK.
However, Defence Secretary Philip Hammond said he had had reassurances at the "highest level" in Washington.
In its defence review in 2010, the coalition announced that it was cancelling the previous Labour government's decision to purchase jump-jet version of the Joint Strike Fighter (the F35-B) and opt instead for the catapult and trap (F35-C) type, which required a different set-up on deck.
But, in May this year, it performed a U-turn, saying it would revert to the F35-B, as costs had increased. It added that the price of this change of mind would amount to £100m.
'Mothball'
Now the Sun newspaper reports that another alteration is likely. It says the US - which is leading the F35-B project - is likely to cancel its orders, as Washington struggles with a government debt crisis.
The newspaper adds that this could force another change on the UK government.
But Mr Hammond told MPs: "We've made a decision to revert to the Stovl [short take-off and vertical landing] system. We are quite confident of the delivery."
He added: "We've had the highest-level discussions with US officials who support the programme."
Fellow defence minister Nick Harvey said people "shouldn't believe everything" they read in the press, adding: "We have every confidence that it will come into service as planned."
As part of its defence spending review in 2010, the government decided to "mothball" one of the two aircraft carriers, HMS Prince of Wales and HMS Queen Elizabeth, ordered by Labour.
Abandoning the plan to fit the "catapults and traps" needed by the F35-C to one of the carriers while mothballing the other, opened up the possibility that both could eventually become operational, it argued.