'Public reading stage' launched for Small Charitable Donations Bill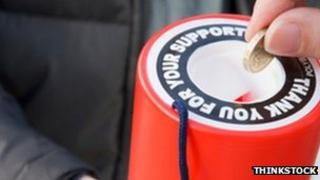 A pilot scheme enabling the public to post comments online about bills before they become law is being extended for a second piece of legislation.
The "public reading stage" of bills, pioneered with the Protection of Freedoms Bill in 2011, is now open for the Small Charitable Donations Bill.
The bill aims to make it easier for charities to top up small donations even without a Gift Aid declaration.
Comments received will be collated and fed into the legislative process.
The extension of the scheme was confirmed in a written Commons statement by Leader of the House Sir George Young.
"Lobby groups, industry and other third parties, who tend to have a close understanding of the legislative process, already actively engage as a bill goes through its various stages in Parliament," he said.
"But there are thousands of other private citizens who may have expertise in a certain area but either don't know how to or are unwilling to use the current channels to get involved in providing MPs with their views."
'Better laws'
The website, which has been revamped since its use on the Protection of Freedoms Bill, would help to rectify this problem, he said.
People will be able to comment on individual clauses and suggest amendments.
After the deadline for contributions closes on 23 August, government officials will examine the public's proposals and produce a report for consideration during the bill's committee stage in the Commons.
How they will decide whether a comment merits inclusion in the report, or what weight the bill committee will give to the force of the public's arguments, is unclear.
The coalition agreement, drafted as the Conservatives and Liberal Democrats forged the current government, contained a pledge to introduce the new legislative stage.
Launching the pilot in February 2011, Deputy Prime Minister Nick Clegg said the move would be an "important step forward in our transformation from a closed political system to an open one".
Prime Minister David Cameron added: "Our new public reading stage will improve the level of debate and scrutiny of bills by giving everyone the opportunity to go online and offer their views on any new legislation. That will mean better laws - and more trust in our politics."