Tony Blair to advise Labour on review of sports policy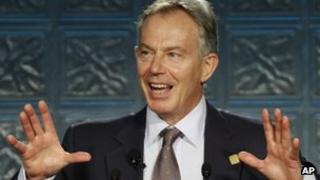 Tony Blair is to contribute to a Labour Party review of its policy on sport in the aftermath of the Olympics.
The review will look at the lessons of the 2012 Games, which begin later this month, and how to make the most of the event's sporting and economic legacies.
The former prime minister's involvement emerged as he appeared alongside Ed Miliband at an event in London.
Mr Blair said that hosting the Olympics and the Paralympics made it a "proud time to be British".
At the fundraising event, attended by leading sporting figures and Labour supporters, opposition leader Mr Miliband praised the role that his predecessor played in bringing the Olympics and Paralympics to the UK.
Since leaving frontline politics in 2007, Mr Blair has - among other things - set up his own Sports Foundation.
According to the Guardian , party sources said sport was "something Tony knows a lot about" but suggested the policy role should not be "over-interpreted". The former prime minister is a keen tennis player and Newcastle United fan.
Mr Blair, who won three elections for Labour, recently revealed he would like to return to Downing Street but acknowledged this is "not likely to happen". He told the London Evening Standard he had "learned an immense amount" since stepping down.