Lords reform: Cameron pledges 'one more try' to reach agreement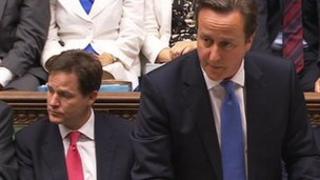 David Cameron has told backbench Conservatives he will have "one more try" on House of Lords reform.
He told the 1922 committee if his party could not reach a deal he would "draw a line" under the issue - a key matter for their Lib Dem coalition partners.
Sources said the prime minister wanted a deal within the "next few weeks" and that settling for "a small elected element" in the Lords was one option.
But some Tory MPs have told the BBC the final attempt is doomed to failure.
BBC political correspondent Carole Walker said privately some Conservative MPs believe Mr Cameron's offer of "one more try" was no more than a gesture from the prime minister to keep his coalition partners happy and was unlikely to succeed.
A senior Lib Dem MP said Mr Cameron needed to "win round" Tory opponents.
More than 90 Conservative MPs voted against plans for an 80% elected chamber on Tuesday - the largest rebellion against the coalition since it was formed.
'Bargain'
In light of the defeat, the BBC understands Mr Cameron told his MPs that he was only prepared to spend a limited amount of time and political energy on getting the proposals through Parliament.
A senior Conservative source at the meeting of the 1922 committee said the prime minister had said he would not go on negotiating all year with the Lib Dems - for whom a democratic Lords is a touchstone policy.
Senior Lib Dems have warned of "serious consequences" if the government gives up on the principle of a mainly elected Lords and there has been speculation they may block changes to parliamentary constituencies expected to favour the Conservatives at the next election.
Lib Dem party president Tim Farron said he expected the issue of Lords reform to return to the Commons in early September and Mr Cameron now had the intervening time to "win round" the rebels.
While the future of the coalition was not in doubt over the issue, he said the Conservatives had "signed up" to a commitment to pursue Lords reform in the two parties' 2010 coalition agreement.
"It is really important that the Conservatives honour their part of the bargain," he told the BBC.
Labour leader Ed Miliband sought to capitalise on Conservative and coalition splits over the Lords during Prime Minister's Questions, suggesting that Mr Cameron had "lost control" of his party and the confidence of his MPs.
In response, Mr Cameron said it was "utterly pathetic" for Mr Miliband to instruct his MPs to vote in favour of reform, but against the timetable needed to facilitate this.
Although the government won a vote on the principle behind the reforms with a large majority, it was forced to abandon a vote on the time given to debating the issue in the face of a likely defeat for the coalition.