Tougher tourist visa application process 'costs UK £2.8bn'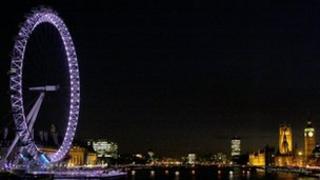 The UK is losing billions of pounds in tourist revenue because of its more expensive and laborious visa system, its main tourism body has said.
Visit Britain told the BBC's Face the Facts visa liberalisation "could deliver £2.8bn extra from tourism".
Foreign tourism is worth £18bn a year to the UK economy - the country's third largest generator of foreign income after chemicals and financial services.
David Cameron has urged tourism leaders to do more to attract foreign visitors.
Speaking in 2010, the prime minister said: "I want to see us in the top 5 destinations in the world."
He went on to promise to improve the visa system by making it more efficient and moving more applications online by 2014.
'Too difficult'
At the moment, however, France, for example, receives eight times the number of Chinese tourists - known for being high-spending - than the UK, with Germany welcoming six times the number.
That is because to visit most countries in Europe, foreign tourists need only apply for a single - Schengen - visa.
The UK requires a separate and, critics say, more complicated and intrusive form.
Applicants are required to answer detailed questions on their income, expenditure, attitude to terrorism, and they must supply biometric data including fingerprints.
Alp Mehmet from Migration Watch, which campaigns to control immigration, sees the need for a strong system.
"The visa process is all about ensuring that people not only come here to enjoy themselves but leave as well," he told Face the Facts.
"Unfortunately, there is still a lot of evidence to suggest that many people don't go back".
Many people abuse visas, but no one currently collects figures on how many overstay on tourist visas.
The Home Office said it does not collect this information and independent analysts at The Oxford Migration Observatory told Face the Facts there were no official records of this.
A recent survey by the European Travel Operators Association revealed that one in four people starting the application process gave up.
The association's chief executive, Tom Jenkins, said applicants "just found it too difficult - we have the longest application form of any major destination - the Schengen form is four pages long, ours is nine pages long".
Cancelled visit
But Alp Mehmet, from Migration Watch, says that although the Schengen form may be shorter it is just as complex: "Whatever reasons there may be for people going to France, it's not because the Schengen visa process is any easier."
Mr Pei Jia, a marketing professional from Beijing, was hoping to visit Britain as part of a planned trip to Europe in 2009.
He was hoping to stay in London, Berlin and Paris, but when he realised he would need a separate visa for the UK, he dropped London off his itinerary.
"I couldn't wait for another month just to get another visa", he told Face the Facts.
"It was a shame to cancel one of your favourite places in Europe. But, you can do the maths. It's 60 euros (£47) for 26 countries but it's £80 for one country".
Professor John Fletcher, tourism economist at the International Centre for Tourist Research in Bournemouth, says global tourism is forecast to grow by up to 60% by 2030, and half of that growth is likely to come from China.
"The extra money and effort they're called on to get a UK visa is just crazy".
The UK Border Agency said that its regime "compares very well with other European countries" and "is geared up to be as simple as possible while ensuring we keep our borders secure."
Listen to the full report on BBC Radio 4's Face the Facts at 1230 BST on Wednesday.