Poverty target will not be met by 2020, says Milburn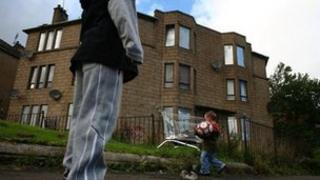 The UK has no chance of meeting its target of ending child poverty by 2020, the government's adviser on social mobility has said.
Ex-minister Alan Milburn said officials must "come clean" and admit the aspiration, first adopted by the Labour government, would not be realised.
He told MPs that £19bn would have to be spent to achieve the goal.
The UK failed to meet a target to halve child poverty by 2010 although numbers have fallen to a near 30-year low.
The government defines child poverty as children living in homes taking in less than 60% of the median UK income.
The 2020 target of eradicating child poverty was agreed by the Labour government in 1999 and enshrined into law in 2010. It was accepted by the coalition when it took power.
But Mr Milburn, who was health secretary under Tony Blair, told the Commons education committee that current trends indicated that the earliest that this could be achieved would be 2027.
'Moment for honesty'
To do so seven years earlier would require the biggest redistribution of income in history, he told MPs.
"The only way we're going to hit the 2020 target is if one or other political party commits to what I don't think any of them are going to do.
"I think there is a moment for honesty here. I think it is time for all the political parties to either put up or shut up.
"I don't believe, frankly, that there is a snowball's chance in hell that we will hit the 2020 target. I think that's very widely privately acknowledged and I think it should be publicly acknowledged too. It is time to come clean about this stuff."
The number of children living in poverty fell by 300,000 to 2.3 million in 2010-11, which campaigners said was the lowest level since the mid-1980s although 600,000 below the amount required to meet the 2010 objective.
The reduction was due to a drop in median household incomes - since the poverty measure is based on median incomes. The median - the middle figure in a set of numbers - for 2010-2011 was £419 a week, down from £432 the year before.
'Deep poverty'
Mr Milburn, who has been advising deputy prime minister Nick Clegg on social mobility, has been nominated by the government to be the first chairman of the new Social Mobility and Child Poverty Commission.
Despite the best intentions of ministers, he said the weak state of the economy and cuts to public expenditure meant it was not an "auspicious time" to try to accelerate progress on child poverty.
The government, he added, should focus on helping the 800,000 children under five living in "deep poverty" by increasing investment in early years education.
Ministers say poverty should not be calculated purely in terms of income and that problems such as unemployment, family breakdown and addiction should be taken into account.
Speaking last month, Work and Pensions Secretary Iain Duncan Smith said Labour's strategy of spending money on benefits to try to push families above the poverty line had failed.
He said the government's consolidated universal credit - which will replace a series of benefits and tax credits - would pull the "vast majority" of young people out of poverty if at least one parent worked 35 hours a week at the minimum wage.