Ministers rule out rethink on ancient leafleting rights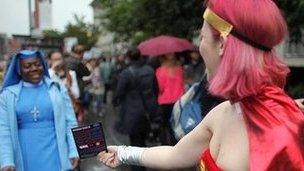 Ministers have ruled out easing restrictions on the handing out of leaflets for community and arts events.
Lib Dem peer Lord Clement-Jones wants a change in the law in England and Wales, saying rules in place since 2005 have hit audiences for plays and concerts.
Speaking in the House of Lords, he said leaflets for cultural activities were being treated like "crisp packets".
But the government said councils had to strike a balance between backing local activities and controlling litter.
The 2005 Clean Neighbourhoods and Environment Act allows local authorities in England and Wales to designate areas within which people need a license to "distribute free literature" and to charge those handing out material.
The legislation was aimed at reducing litter in town centres.
But critics say a third of councils have now introduced restrictions or charges under the new regulations and the costs and bureaucracy involved have had a damaging effect on theatres, village halls, circuses, comedy clubs and nightclubs.
Raising the issue in the House of Lords, Lord Clement-Jones said some councils were asking "exorbitant" amounts to hand out leaflets.
He urged the government to extend exemptions in the regulations currently applying to charities, political campaigners and religious groups to cultural and community events.
"Many local theatres and clubs have been very badly affected by these restrictions with dramatic reductions in their audiences," he said.
"Isn't this a traditional civic freedom that should be protected? Will the government not treat these leaflets as no more important than a crisp packet or a burger wrapper?"
Former Conservative cabinet minister Lord Brooke said councils risked being "castigated as philistine" if they sought to restrict leaflets in the name of keeping town centres clean and tidy.
Government spokesman Lord Taylor of Holbeach said that while he understood the need to preserve local arts events ministers had "no plans" to amend existing rules.
He stressed it was up to councils to decide whether to use the "discretionary" powers available to them and how to strike a balance between "propagandising events and social activities and the community's interest in trying to prevent litter and indeed, to some extent, being bothered by people handing out leaflets".
And he added: "Authorities should work with community and local businesses to minimise litter problems before imposing restrictions."
Keep Britain Tidy has welcomed the curbs, saying leaflets handed out in the street contributed to the UK's £885m a year litter problem.
Related Internet Links
The BBC is not responsible for the content of external sites.