'Web snooping' inquiry: Public input sought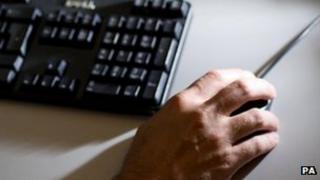 The public is being invited to submit evidence on the government's "web snooping" plans.
This comes as a parliamentary committee launches its inquiry on the draft Communications Data Bill.
"Each and every one of us" will be affected by the bill, according to Conservative peer Lord Blencathra.
He chairs the joint committee of MPs and peers holding the inquiry and stressed a privacy-security balance. The call for evidence ends in August.
Under government's plans, internet service providers will have to store details of internet use in the UK for a year to allow police and intelligence services to access it.
Records will include people's activity on social network sites, webmail, internet phone calls and online gaming.
Ministers argue that changes are needed to ensure that law-enforcement agencies can access data about new technology communication just as they are currently able to with older forms of communication.
"This committee wants to ensure that the draft bill will ensure a sufficient balance between an individuals' privacy and national security," said Lord Blencathra, a former Home Office minister under John Major.
"We intend very thoroughly to examine the government's proposals and hope to hear from interested bodies and organisations about exactly how the changes in technology and the way we use it should be reflected in legislation about access to communication data."