Diplomats 'owe £58m in London congestion charges'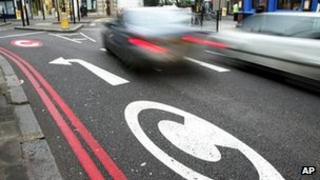 Foreign diplomats in London owe £58m in congestion charges since the scheme's 2003 launch, the Foreign Office says.
According to figures released in a written Commons statement, US diplomats are the worst offenders, having built up outstanding fines of over £6m.
The US has long maintained that diplomatic immunity exempts it from paying the congestion charge.
Separate figures show that Nigerian diplomats owe more than £67,000 on parking fines issued in 2011.
Foreign Secretary William Hague's statement said that a total of 64 diplomatic missions owe more than £100,000 in congestion charges.
Behind the US, Russia and Japan had the highest totals in unpaid congestion charges, owing more than £4m each. Germany was next with over £3m.
In a series of statements, Mr Hague also detailed unpaid parking fines and unpaid business rates by foreign diplomats.
Diplomats from Nigeria, Turkey and Afghanistan have built up the biggest total of unpaid parking fines, while their counterparts from Ivory Coast, Bangladesh and Zimbabwe owe the most in business rates.
Mr Hague made it clear that Foreign Office staff have been trying to persuade the diplomats to settle their debts.
During the course of their negotiations, they succeeded in reducing the total owed by all diplomatic missions in parking fines issued in 2011 by £146,000 to just over £330,000.
Similarly, the total amount owed in business rates, built up over many years, was cut by £150,000 to £565,000.
Although diplomats are entitled to immunity from criminal prosecutions, they are still "expected to obey the law", Mr Hague said.
Yet five were alleged to have been driving while drunk during 2011; one each from Ukraine, Angola, Kuwait, Korea, and Kazakhstan.
Also in 2011, an Egyptian diplomat was alleged to have committed sexual assault, and a Kazakhstan diplomat was alleged to have committed actual bodily harm.
"When instances of alleged criminal conduct are brought to our attention by the police, we ask the relevant foreign government to waive diplomatic immunity where appropriate," Mr Hague said.
"For the most serious offences, we seek the immediate withdrawal of the diplomat."
In 2011, Transport Minister Earl Attlee told the House of Lords that London Mayor Boris Johnson had "had a chat with the President of the United States" about unpaid congestion charges during a state visit to the UK, "but he still did not get very far".
The US embassy stopped paying the charge in July 2005, arguing that it was a local tax which, under the Vienna Convention, does not apply to foreign diplomats.