Indian Mujahideen group banned in UK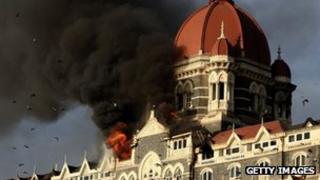 The group Indian Mujahideen (IM) has been banned by the British government from operating in the UK.
It is thought to have been involved in the Mumbai attacks in 2008, in which 165 people died.
MPs voted unanimously to issue a proscription order, which makes it a terrorist offence to be a member of the group under the Terrorism Act 2000.
The group - barred by the US and New Zealand - becomes one of 47 other organisations on the UK banned list.
India outlawed the group in June 2010.
Home Office Minister James Brokenshire told the Commons on Wednesday that IM "has frequently perpetrated attacks against civilian targets... with the intention of maximising casualties."
"For example, in May 2008, a spate of bomb detonations in the city of Jaipur killed 63 and in September of last year, while an explosion outside the high court in Delhi reportedly killed 12 and injured 65," he said.
Mr Brokenshire added that IM wants India to become an Islamic state, governed under Sharia law, and that the group had threatened British tourists in India.
"We believe that there is ample evidence that IM is concerned in terrorism and I believe it is right that we add the organisation to the list of proscribed organisations."
The move was welcomed by shadow home office minister Diana Johnson, who said the IM was behind "some of the most appalling acts of terrorism in recent years".