Big Ben's tower renamed Elizabeth Tower in honour of Queen
By Kayte Rath
Political reporter, BBC News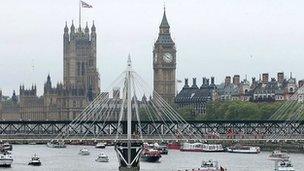 The clock tower widely known as Big Ben is to be renamed the Elizabeth Tower in honour of the Queen, the House of Commons has confirmed.
It follows a campaign, backed by most MPs and the three main party leaders, to rename the tower in recognition of the Queen's 60 year reign.
At present the famous central London landmark is described by the Palace of Westminster as the Clock Tower.
The House of Commons authorities have now agreed the change.
Conservative MP Tobias Ellwood originally proposed the idea an early day motion which was backed by 40 MPs.
The motion called on the House of Commons Commission to consider the change "in recognition of Her Majesty's 60 years of unbroken public service on behalf of her country".
A subsequent letter of support circulated by Mr Ellwood received the backing of more than half of MPs, including David Cameron, Nick Clegg and Ed Miliband.
The prime minister and the Labour leader have both previously described the move as a "fitting tribute" to the Queen.
The House of Commons Commission said it welcomed the proposal to rename the tower and "will arrange for this decision to be implemented in an appropriate manner in due course".
This is not the first time a part of the Palace of Westminster has been renamed in honour of a monarch.
When the Palace was rebuilt in 1860, the west tower, then known as the King's Tower, was renamed the Victoria Tower to commemorate the long reign of Queen Victoria.
She is the only other monarch to complete 60 years on the throne.
The Big Ben nickname originally referred to the 13.5 tonne Great Bell within the tower, but has long been the commonly used name for the clock and tower as a whole.