Bethan Jenkins AM takes break from Twitter after McGuinness-Queen row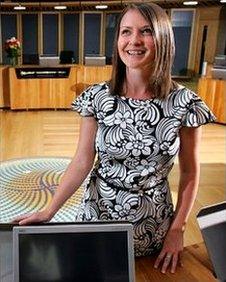 A Plaid Cymru Assembly Member is taking a break from Twitter after describing Sinn Fein's Martin McGuinness as "naive" for agreeing to meet the Queen.
Labour Party users of the social network site pounced on the comment, which Bethan Jenkins has since removed.
Northern Ireland's Deputy First Minister Mr McGuinness will meet the Queen at a charity reception.
Appalled at being accused of "trying to destabilise" the peace process, she is giving up Twitter for the time being.
Labour drew attention to her tweets last Friday when the historic first meeting between the Queen and Mr McGuinness, a former IRA leader, was announced.
South Wales West AM Miss Jenkins has been one of the most prolific users of Twitter in the Senedd.
Responding to her critics, as the daughter of a mother from Ireland who had lived through the Troubles, she said she was appalled at the suggestion of trying to destabilise the Northern Ireland peace process..
In a statement she added: "I'm leaving Twitter for the time being as I've found it has become less a forum for candid, personal communication with constituents and more a weapon in the hands of political opponents with nothing to offer the electorate.
"It's sad, but I will no longer be distracted from my work as an AM to deal with these matters, nor allow them to detract from the good work Plaid Cymru is doing on behalf of communities in Wales."
Miss Jenkins shares the republican views of her party leader Leanne Wood, who recently turned down an invitation to attend a service with the Queen at Llandaff Cathedral to mark the Diamond Jubilee.
During the Plaid leadership campaign Ms Wood said she would be present when the Queen opens the Welsh assembly.
The Queen begins a two-day visit to Northern Ireland as part of her Jubilee tour of Britain on Tuesday.
An historic handshake with Mr McGuinness is expected at an arts event in Belfast on Wednesday, which will also be attended by the Irish President and the First Minister Peter Robinson.
Related Internet Links
The BBC is not responsible for the content of external sites.