Jeremy Heywood: Cuts may last until 2020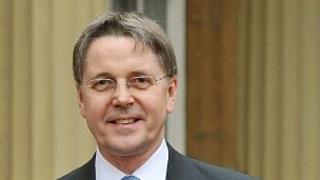 Spending cuts could continue for another eight years, the Cabinet Secretary Sir Jeremy Heywood has said.
The top civil servant made the comments at an event at the Institute for Government mostly attended by civil servants.
He was discussing the coalition's civil service reform plan .
The government has already announced the austerity programme would continue beyond the next election.
But the suggestion of a time scale going beyond 2017 has not been talked about openly, says BBC political correspondent Ian Watson.
The Cabinet Office said: "Jeremy was simply saying that financial pressure would continue into the next parliament."
On Tuesday, Cabinet Office Minister Francis Maude announced a package of reforms to the civil service, which included plans to make it easier to sack under-performing staff members.
Mr Maude said he wanted to see the civil service operate more like a business, with a tougher appraisal system, increased accountability and a more entrepreneurial culture.
The planned changes come against a backdrop of deep cuts and job losses across Whitehall.
Sir Jeremy - who, along with head of the civil service Sir Bob Kerslake, will lead the implementation of the reform plan - told an audience at the Institute for Government the public sector was only 25% through its fiscal adjustment.
"That's a big adjustment, because we had a big starting point but we've got a massive amount still to do.
"We're probably in year two, or year three of a seven, eight, maybe a 10-year programme. That gives you some sense of the size of the fiscal public service reform challenge facing pretty much every department in Whitehall," he said.
Sir Jeremy told the audience there were a number of challenges on the economy that would each, in "normal" times, be the main preoccupation of any government.
He said reforming the House of Lords was going to be "immensely problematic" and dealing with the results of Lord Justice Lesson's inquiry into freedom of the press would be a "massive hot potato for any government to have landed in its lap".
In addition, the need to campaign to maintain the integrity of the UK was "going to take a huge amount of the time of the Cabinet Office, the prime minister, the deputy prime minister over the next 18 months", he said.
He concluded: "Whether you look at the economic challenge, the fiscal challenge, the public service challenge, the constitutional reform challenge we are beset with enormous issues and any one of those I have mentioned would be the dominant theme of most normal five year parliaments.
"We've got them all at the same time."