Are NHS walk-in centres on the way out?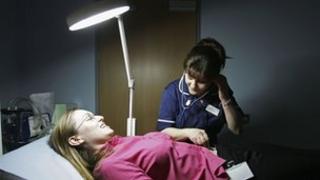 Walk-in centres are rapidly becoming a casualty of the tougher financial climate in the NHS in England.
The centres - which treat minor ailments without an appointment - were a flagship policy of the previous Labour government.
They are popular with patients but critics say they're not cost-effective.
Figures suggest a quarter have closed in the past year but the government say the services they offered have not been cut.
The centres were meant to relieve pressure on A&E departments by providing easy access to treatment for minor ailments.
The government says these services are still available when the centres are relocated to hospitals - but critics say patients have to join long queues at A&E or make an appointment rather than simply being able to walk in off the street and see a nurse or doctor.
The Department of Health says it does not have data on how many walk-in centres have been closed, but analysis of weekly NHS hospital activity statistics show there were 75 non-hospital providers of emergency care in June 2012, which could also include urgent care units.
That is 26 fewer than in the same month last year - a reduction of 25%.
'Not being cut'
Health Minister Simon Burns said: "More people than ever are being treated in these units, almost 20,000 more compared to last year.
"Some of these services have recently been taken over by hospital trusts, whilst others have been integrated into local urgent care services, so while the number of organisations might appear to have fallen, this has not affected access to urgent care services, in fact people using them has increased."
Labour MP Gloria De Piero, earlier this month asked Prime Minister David Cameron why the "popular" walk-in centre in her Ashfield constituency and "similar walk-in centres are closing all over the country".
Mr Cameron said it was "certainly not because the money in the NHS is being cut, because it is not being cut" but decisions need to be "taken locally" about how "money in the NHS is spent to deliver better health outcomes".
The Department of Health said the Ashfield walk-in centre - one of two to be closed in Nottinghamshire - has been replaced by a 24-hour unit at the nearby King's Mill hospital.
But - in a letter to Health Secretary Andrew Lansley - Ms De Piero says people in need of primary care services now "either have to first present themselves at A&E or make an appointment" and "no longer had the ability to walk-in directly".
'Successful'
Walk-in centres have been closing down across England for the past two years. Among those to go in recent weeks is a facility in Tooting, in South London, which has been incorporated into the A&E department at nearby St George's hospital.
"The relocation next to the minor injuries section within A&E is designed to help deliver care to patients in the most appropriate place and improve patient experience," the hospital said.
A privately-run centre in Victoria, central London closed its doors in December. It was commissioned by the Department of Health but when its five year contract ran out the local Primary Care Trust decided not to keep it open, to save money.
Walk-in centres were used by more than three million people last year and they "have proved to be a successful complementary service to traditional GP and A&E services", according to the NHS Choices website.
But the Department of Health says they are not a "nationally mandated" policy and GP commissioning groups will be free to shut them down when they take over from Primary Care Trusts as part of the government's NHS shake-up.
Critics of walk-in centres say they have failed to relieve pressure on A&E services in the way Labour planned and that the cost of treating each patient has gone up from an average of £36 in 2008-09 to £39 in 2010-11.
But patient groups say they remain highly popular with those that use them.
Katherine Murphy, chief executive of the Patients Association, said: "Despite the many promises of patients having choice within the NHS, this is yet another example of having those very choices removed in the name of efficiency savings.
"Walk-in-centres provide a vital function for those who are unable to access their GPs, due to excessive waits and those who do not want to bother the already heavily burdened A&E staff.
"Our helpline regularly hears from callers who have had a range of issues with GPs and hospitals, but we hear almost universally about just how popular walk-in-centres are."
Here is a selection of your comments:
Closing the walk-in centres would be the last straw. Our GP has recently changed their system and after spending three days trying to get someone to answer the phone my brother finally got through to the surgery. He asked for an appointment - and was offered one in two weeks time. This is totally not acceptable - the National Health Service used to be such a wonderful service - now with appointments offered two weeks ahead and striking doctors it is a shambles. Ann
Our town has a population of about 25,000 people and 4 GP Practises. Suffolk NHS announced they were closing the newly opened walk in clinic in November, but have since brought it forward to July. There is uproar from the local community, and the NHS are giving the reason it has failed to reduce the amount of A & E patients. Our town council believe different, and are fighting. I believe it is a cost cutting exercise and it is all about money. David
I tried to get an appointment with my GP and was told unless it was an emergency I would have to wait over a week. I went to the walk in centre in Widnes and was seen within 15 minutes by the nurse led team. Getting rid of the Walk in centres would be a huge mistake and would further add to the chaos that is A&E and GP led surgeries! Cheryl
I have been a victim of this closure of the Tooting WAlk in centre, a facility that, in my opinion, is one of the best resources on offer form the NHS. I am often unable to get GP appointments, despite ringing on the day, they are all gone within 10 minutes (and that's if you can actually get through) last week I was in considerable discomfort with a UTI and tried on two days to see my gp. No such luck. so, I ended up at the drop in centre, only to find it had joined the A&E department. I DID NOT need to be in A&E and waited 3 hours, before I gave up and left. Patients were queueing out the door of the A&E department. The longest I have ever waited is 1 hour at the walk in centre. Staff were always friendly, polite and caring. The same could not be said for my GP surgery or the A&E department, where there were 2 very abusive patients waiting to be seen. This is an example of another massive let down which is having a negative effect on those of us who pay! Our taxes and actually pay for the service. Poor management! Emma
Nottingham has had it's walk in centres closed. So if money to the NHS is not being cut, and staff and facilities are being cut, where is that money that hs been saved going? It wouldn't be towards the cost of closing the PCT's and the set-up costs of the new GP consortia by any chance? If the government wanted greater GP control over primary healthcare, would it not have been easier to require PCT's to have 50% GP representation on their boards and management? You can't stop a govenment wasting money on bad ideas! Des
I have never needed a walk-in as my GP provides an excellent service; when I needed an urgent appointment, I got one the same day. They always answer the phone in working hours and you can get an appointment when its convenient to you up to two weeks ahead. They even open at 7:00 AM twice a week! I have heard the astonishing stories of only being able to get an appointment for the same day if you ring by 9:00 AM. No wonder they need walk-ins! Lets address the real issue here. Peter
Walk in centres are a joke. Waiting times of 3-4 hours are not uncommon and priority seems to be given to children, no matter how trivial their condition may be. On two occasions members of my family have been mis-diagnosed by the supposed "experienced" nurse practitioners including one very basic mis-diagnosis. Including one where the nurse took an arrogant "I know better than you" approach. No matter how ill I was feeling I would NEVER use a walk-in centre again Paul
The Walk-in centre in Middlesbrough saved my life. I had a cough and what I thought was a pulled muscle, but couldn't get in to see my own GP, and wouldn't have dreamed of going to A & E with a cough. Turned out I had pneumonia. If I had waited until I was ill enough to warrant going to A & E, or waited days to get in the GP I might have been a lot worse off than I am now. Walk-in centres are popular and should be a national policy-if the good outcomes for patients and the NHS were measured in successes like these it would be. Jude
About time! Staff there are undertrained and, as the public can walk in off the street, many non urgent issues are referred to specialists that the undertrained staff do not know how to handle, even when specialist help is not required. If staff were better trained this would be a useful resource.
I hope the public will begin to wake up to the dismantling of the NHS being carried out by the current government - at the public's expense. I am surprised this service has not been farmed out to Virgin or Serco yet! Samantha
Currently, a visit to a walk in Centre in Liverpool is costed at £68. A visit to the local A/E is costed at £50 a visit to the local GP is £20. The Walk in Centre is 'personed' by nurses. This is a waste of precious resources and in the current climate, just not a viable proposition. Dr Hitesh Kothari