New Labour group Progress rejects GMB union 'outlaw' threat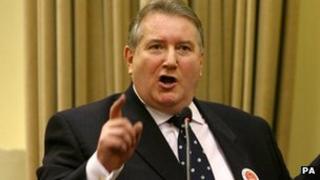 A New Labour pressure group has said attempts by a union to get it banned from the Labour Party are "deeply disappointing".
The GMB has accused Progress of being a "party within a party" - like the Militant Tendency in the 1980s.
It will submit a resolution to Labour's annual conference in September to try to "outlaw" the group.
Progress, founded in 1996 by Lord Mandelson, said any comparison between itself and Militant was "absurd".
The Labour Party said it would consider the GMB motion but stressed that it was "not in the business of excluding people".
"The Labour Party will follow the standard procedures and rules in regard to this motion, which would be considered for debate at the 2013 conference if it is accepted as in order by the Conference Arrangements Committee," said a spokesman.
"We are a party that is reaching out to people, gaining new supporters and offering real change for the country in these tough times. The Labour Party is a broad church and we are not in the business of excluding people."
'Factional activity'
Progress, which is seen as being on the right of the party, holds debates and other events, including an annual conference - which Ed Miliband addressed in May this year - and publishes a monthly magazine on Labour issues.
Lord Adonis, a former transport secretary and adviser to Tony Blair, was appointed chair of Progress in January 2012, and a number of MPs elected in 2010 are vice-chairs, including shadow cabinet member Liz Kendall.
Shadow education secretary Stephen Twigg is the honorary president of the group.
The GMB has expressed concerns that Progress is operating to undermine the party, accusing it of attempting to sabotage Labour's London mayoral campaign in the November edition of its magazine.
The union has also raised questions about the group's funding, both from Lord David Sainsbury, who donates £260,000 a year to Progress but has not donated to the Labour Party since Ed Miliband became leader, and the pharmaceutical company Pfizer.
A motion passed at the union's congress this week accused "prominent Progress members" of briefing against Ed Miliband and said Progress was responsible for persuading Labour's front bench "to support cuts and wage restraint".
It went on to say: "Congress notes that Progress advances the strategy of accepting the Tory arguments for public spending cuts.
"Congress believes that such factional campaigns to undermine Labour candidates, and to soften opposition to Tory policies, endanger the unity of the party and the movement in our fight against the coalition government."
Once passed, the motion commits the union to "monitor the factional activity of Progress" but general secretary Paul Kenny went further, suggesting the group should now be "outlawed".
In a speech to congress he said: "On Progress let me say this. I know that at this very moment a resolution is written and will be delivered to the Labour Party shortly.
"It is a rule amendment which will go before this year's conference for next year which, effectively, will outlaw Progress as part of the Labour Party, and long overdue it is."
Attempts by local parties or unions to change the Labour Party rulebook run on a lagging timetable, meaning a GMB amendment on Progress submitted this year will not be debated until conference in 2013.
'Uncomradely'
Progress said it was "regrettable" that the GMB had passed the resolution and denied any comparison with the Militant Tendency - a far left group which attempted to take over Labour from within, a tactic known as "entryism", but was expelled from the party in the 1980s.
Militant was secretive and outside Labour's mainstream, it added.
"By contrast, Progress is an organisation of Labour Party members for Labour party members; we are open, pluralist and proud of the last Labour government and what it achieved for working people; and our events have been addressed by Ed Miliband and his two predecessors," a statement from Progress said.
Membership of Progress is open to all members of the Labour Party, but it is not formally affiliated to the party, meaning it has no official role in policy-making or leadership elections.
The group rejected allegations made by the GMB about its funding. It said there was no relationship between the funding it received from Lord Sainsbury and the money the retail magnate gave to the Labour Party.
Defending donations it had received from pharmaceutical companies before 2005, it argued "like other centre-left organisations and think tanks, we rely on sponsorship to support our events programme, particularly at Labour party conference".
Progress said there was "no evidence whatsoever" of its members briefing against the Labour leader, and that any attempt to suggest it had not backed Ken Livingstone for London mayor was "uncomradely".