London Olympics 'to come in £476m under budget'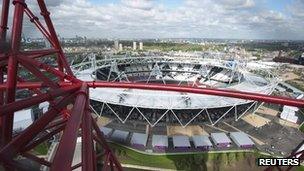 The London Olympics is set to come in under its £9.3bn budget with £476m of the contingency funding left, according to new government figures.
Culture Secretary Jeremy Hunt said it was "fantastic news" that the Games would be on time and under budget.
Ministers expect to be able to return the remaining money to the Treasury.
The £9.3bn budget, which included a £2bn contingency, was set in 2007 and was almost four times the estimated cost at the time London bid in 2005.
The budget was revised upwards after taking into account previously overlooked costs such as VAT, increased security costs, and an expanded brief for the Olympic Delivery Authority (ODA) to regenerate the lower Lea Valley area.
Addressing the original bid budget of £2.4bn, Sports Minister Hugh Robertson said there was a "recognition right from the word go that figure would have to change dramatically on the basis of delivering the Games".
Mr Hunt said: "Britain has proved that not only can we put on a great show for the world to watch like we did with the Jubilee but that we can also deliver big construction projects on time and on budget."
Mr Robertson said the latest figure for the Games, which begin next month, was "a great advert for the British construction industry, for sport and for UK Plc".
Following the success of the Queen's Diamond Jubilee and the ongoing Olympic torch relay, additional funding of £19m has been earmarked to bolster crowd control and public information for the games.
The money, which will be allocated from within the £9.3bn budget, will pay for additional stewards and crowd flow measures in central London as well as the "last mile" - what organisers describe as the distance between transport hubs and Games venues.
Mr Robertson said: "We know exactly how many tickets have been sold and roughly how many people should be in London. Absolutely nobody knows how many people are going to turn up.
"London this summer is going to be the place to have a party. It is a great national event. It is very difficult for us to know exactly how many people are going to come across on the train, in the car or on the ferry only for a party."
The government confirmed the work of the ODA, which is responsible for developing and building the venues and infrastructure for the games, is 98% complete.
It will not be fully completed until after the Games when the ODA will convert apartments in the Olympic Village into thousands of new homes.