Housing: The Grant Shapps v Jack Dromey row deconstructed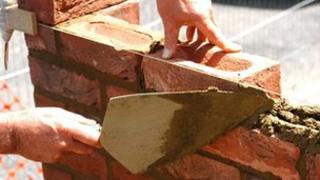 Two press releases have been issued. One hails a "rapid and dramatic increase" in the number of affordable homes built. The other highlights a "disastrous collapse" in affordable homes built.
Welcome to the parallel worlds of Grant Shapps and Jack Dromey.
Mr Shapps, the housing minister, seems to possess boundless optimism about the housing sector. His Labour counterpart Mr Dromey sees a tragic failure of the coalition's policies to deal with a mounting crisis.
Policy rows like this are nothing new at Westminster. The adversarial system thrives on government claim v opposition counter-claim. Ministers talk a policy up; shadow ministers trash it.
But this week the battle over the housing statistics intensified in rather a personal way. Jack Dromey lodged a complaint with the UK Statistics Authority saying that Mr Shapps was guilty of persistent "misrepresentation and misuse" of official figures, which was confusing the public and obstructing debate.
The housing minister dismissed what he described as an "incomprehensible rant" and accused the previous Labour government of being second only to the Luftwaffe in destroying homes.
'Collapse'
Any set of statistics can, of course, be manipulated and interpreted in various ways. Last November Labour said there had been a "97% fall in affordable new housing" in the first six months of 2011/2012. In that period work had begun on just 429 new affordable homes.
The figure shocked some observers of the sector. There was widespread media coverage of the "collapse" in affordable building, and much agonising about the future of housing.
But the next six months were rather different. From October last year to march this year, there were 15,269 affordable housing starts. Working from the 429 figure, that could be interpreted as an increase of a staggering 3,500% - an extraordinary housing boom!
Labour, of course, would not be willing to trumpet that figure, and even Mr Shapps decided to leave such an impossibly good number off his press release.
It all goes to show just how absurd the debate can get when looking at one set of statistics. The housing minister's challenge to Labour is this: at least be consistent with the figures you are using to criticise the government.
But Labour says the big picture is becoming clearer by the day: the gap between the demand for new affordable homes and their supply is worryingly huge.
Part of the reason why there have been such wild fluctuations in the housing statistics is that we have been in a transition period from one policy to another. The coalition ended Labour's Affordable Housing Programme - which channelled billions of pounds of central government money into home-building.
'One-for-one'
Labour says the affordable housing budget was cut by 60% - or £4bn - in October 2010. This massive reduction in government investment is seen by the party as the key reason for the "collapse" in the headline number.
But the housing minister says we were always going to see a significant gap between the old policy and the new. The coalition's big idea is to use public cash to encourage developers to make their own investments in affordable housing.
They are allowed to borrow money against the future social rents they are likely to achieve. The government believes the contracts that are now being signed will deliver 170,000 new affordable homes over the next few years - more than the original target.
Labour thinks that's very unlikely to be achieved. Mr Dromey says Mr Shapps has a "mountain to climb" to get anywhere near his projections.
The row over affordable homes is just a part of a wider debate about all kinds of housing. Mr Shapps is very keen to talk up the reinvigorated "right-to-buy" scheme, under which council houses can be purchased by the occupant at a discount.
Ministers say they will be replaced "one-for-one", a process that will generate another 100,000 new homes. Labour thinks that won't happen. Efforts are also under way to encourage brownfield development. Again 100,000 new homes are promised.
Critics say the overall housing policy is not nearly ambitious enough - given that 230,000 new households come into existence every year. Even if everything goes to plan for the coalition - there will still be a serious shortage.
Part of the problem for journalists reporting housing, or politicians trying to showcase policies, is the long delay between decisions being taken and the effects on the ground.
It may be years before we have the statistics to decide whether Mr Shapps or Mr Dromey was right back in June 2012. And, even then, there will be plenty of scope for interpretation...