Vince Cable plans 'settlement agreements' for firms to axe staff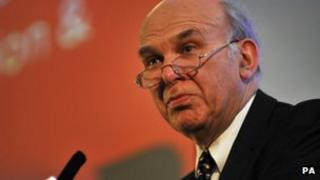 Business Secretary Vince Cable has announced plans to make it easier for firms to remove under-performing workers in return for a pay-off.
Using "settlement agreements" would allow more staff to agree to go without the need to go to employment tribunals.
The move comes amid disagreement between Conservatives and Liberal Democrats over proposals to make it easier to sack poor quality employees.
But a government source said the two ideas were "separate".
The UK has re-entered recession and the coalition says its priority is a return to growth, with current employment law cited as one of the restrictions on this.
The Lib Dem minister announced in Parliament that he intends to add a clause to the Enterprise and Regulatory Reform Bill to make it quicker and easier to use settlement agreements, allowing staff to leave the company in return for a payment.
This would act as an alternative to going to an employment tribunal, which can be costly and time-consuming, and, according to businesses, make bosses less inclined to hire new people.
'Pro-business'
The agreements are currently available for employers in some circumstances, but ministers want to make it easier to use them, rather than go to a legal dispute.
Businesses would be legally protected from any offer they make being used as evidence in an unfair dismissal tribunal case.
Mr Cable said: "Settlement agreements are smart, fair and pro-business reforms which deliver results for employees and employers."
He added that the change "empowers employers by enabling them to keep their workforce flexible and encouraging alternative ways of solving workplace problems rather than resorting to a tribunal. But crucially it does so in a way that keeps the necessary protections for employees in place".
Business groups have welcomed the plans.
The British Chambers of Commerce said it would "offer many employers the certainty and security they crave" while the CBI said it would give firms confidence and "simplify the process of ending an employment relationship in a way which is acceptable to both sides."
'Destabilising'
But the GMB's general secretary Paul Kenny warned the plans could "destabilise" workplaces, adding there was no evidence the measure would encourage growth.
"Once again we see this government finding a way to undermine existing employment rights by introducing measures which allow employers to force employees out the door if their face doesn't fit," he said.
For Labour, shadow business secretary Chuka Umunna said it was "highly questionable whether this proposal would work in practice".
"For an employment relationship to subsist, an essential component is mutual trust and confidence between employee and employer," he said.
"It is difficult to see how this can be maintained under this proposal, for example in cases where an employee has done nothing wrong, is made an offer to leave for no good reason with a pay off, but decides to reject it.
Earlier this year Adrian Beecroft, a Conservative-supporting venture capitalist, was commissioned by Prime Minister David Cameron to look into reforming employment law.
His report, published last month, recommended that bosses should be able to fire staff, without giving a reason, while giving them a pay-off linked to salary and service. Small firms, without specialist human resources departments, should be exempt from some regulations, he added.
But, at the time, Mr Cable said the recommendation that "no-fault dismissals" be allowed was "nonsense", arguing that it was not the job of government to "scare the wits out of people" by reducing their employment rights.
Mr Beecroft responded by calling the business secretary a "socialist" who appeared "to do very little to support business".
'More confidence'
A government source told the BBC the no-faults dismissal idea, which ministers are looking into, was "separate" from the plans announced by Mr Cable.
Settlement agreements would provide a way to "give businesses more confidence", they added.
Changes to employment law, it has been argued, would improve the supply of suitable staff to firms, who would be less afraid of having to make large pay-outs or face legal action when laying off those who were no longer needed.
In Monday's statement, Mr Cable also told MPs that responses to a government consultation on directors' pay showed "support for strengthened shareholder voting rights" and proposals would be brought forward at committee stage of the legislation.
Labour have accused ministers of backing down from plans to give shareholders an annual binding vote on executive pay.