Labour 'needs policies not rhetoric' - union backer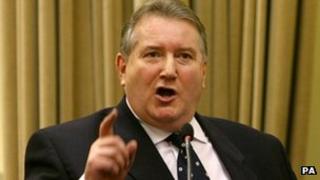 Labour must move beyond its "anti-cuts rhetoric" and spell out what it would do if it was in power, a leading union backer has warned.
GMB leader Paul Kenny said he wanted to see specific policies from Labour, including a pledge to reverse coalition austerity measures and NHS changes.
GMB, which has clashed with Labour over its support for public pay caps, also wants more "ordinary people" as MPs.
The call came ahead of the start of the union's annual conference on Monday.
Shadow chancellor Ed Balls is among speakers at the event in Brighton.
Mr Balls angered union leaders earlier this year when he supported government plans to cap pay rises for public sector workers at 1% for the next two years.
Unions said the pay limits - coming on top of a two-year pay freeze for most public sector workers - amounted to a further real-terms pay cut when inflation was taken into account.
Mr Kenny - whose union gives around £1.4m in affiliation fees to Labour every year - said he was "bemused" by the party's stance on the issue and he wanted to hear guarantees that they would reverse coalition policies if they gained office after the next election.
"The party has to move on from the rhetoric of attacking the coalition for cutting too fast and too deep, and set out what a post-Tory government will look like.
"Will they reverse privatisation in the NHS, because if they don't, they will lose support from working class people."
'Core position'
GMB delegates will debate a number of motions during their annual gathering, including calls to disaffiliate from Labour and withhold funds from certain MPs in favour of any "left alternative".
While Mr Kenny said it was unlikely the union would sever its links with Labour, he said the GMB was "not going to... compromise our core position on issues which affect us".
Its 500 delegates will be asked to approve a special report by the union's executive calling for the reinstatement of political education courses and an expectation that Labour's leader and deputy will address the executive at least once a year.
Mr Kenny also suggested Labour should widen their intake of MPs by making it easier for people of varying professional backgrounds and more modest means to get into Parliament.
"We have care workers who cannot get time off, or afford to travel, up against lawyers from London in selection campaigns, so we should be offering people like that financial support.
"We have to get people interested in politics so that our voice can be heard on issues like employment law and trade union rights."
The Labour leadership have said the 1% public sector pay limit is right for the economy in order to protect jobs and help reduce the deficit.
Ed Miliband has said he will stand up to the unions when he believes they are wrong, describing the pay clash as a "watershed" moment.