MPs back bid to rename Big Ben tower after Queen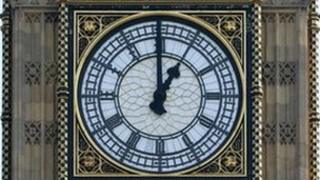 A campaign to rename the tower housing Big Ben after the Queen has received the backing of the majority of MPs.
More than half have signed up to the proposal outlined in a letter to name the iconic east tower of the Palace of Westminster the Elizabeth Tower.
A group of 40 MPs has already signed a Commons early day motion on the matter.
Conservative Tobias Ellwood's motion is backed by all three main party leaders and comes as Britain prepares to celebrate the Queen's Diamond Jubilee.
'Outstanding accolade'
The Bournemouth East MP aims to raise the matter formally later this month.
He said the clock tower should be formally named in honour of the Queen, in recognition of 60 years' of unbroken public service for her country.
"Commemorating such an iconic landmark is indeed a truly exceptional tribute and I am grateful that a majority of MPs have now confirmed that the Queen deserves such an outstanding accolade," he said.
At present the famous central London landmark is described by the Palace of Westminster as the Clock Tower.
When the Palace of Westminster was rebuilt in 1860, the west tower, then known as the King's Tower, was renamed the Victoria Tower to commemorate the long reign of Queen Victoria.
She is the only other monarch to complete 60 years on the throne.
Big Ben is the nickname for the 13.5 tonne bell contained in the tower.