Jeremy Hunt's Leveson Inquiry documents analysed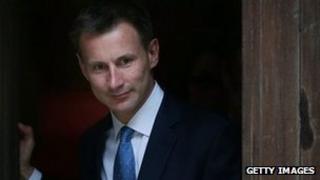 Shortly after Culture Secretary Jeremy Hunt was driven away from the Royal Courts of Justice, hundreds upon hundreds of pages of documents submitted to the Leveson Inquiry by Mr Hunt were published.
It is a paper trail that would make a small collection of telephone directories appear modest.
It is impossible to read them and not conclude that every conceivable aspect of News Corporation's proposed takeover of BSkyB was fought over industriously.
Charlotte Brewer, a professor of English language and literature at Oxford University, was even asked to provide the media regulator Ofcom with a definition of the word "plurality".
There was significant concern from those opposing the takeover - including BT and the Telegraph newspaper, among others - that if it went ahead there would be fewer independent voices providing news in the UK.
In addition, the BBC's director general Mark Thompson signed a letter calling on the government to refer the bid to the Competition Commission.
In case you wondered, Professor Brewer reported that the "overwhelmingly strong assumption that in common usage, a sufficient plurality is interpreted as a sufficiently large number or quantity or profusion".
So that's that cleared up, then.
'Beef up'
Elsewhere there are some interesting titbits in some of the text message exchanges that have been released but were not referred to during Jeremy Hunt's oral evidence.
In early January 2011, a few weeks after the culture secretary had taken over quasi-judicial responsibility for the BSkyB bid, there was an email from Mr Hunt to his now former special adviser Adam Smith.
Mr Smith had pointed out that lots of Conservative MPs were being heavily lobbied about the bid from both sides - and the process was taking time.
"Brill thx, good to be a hate figure, Maggie would be proud of me!" replied the culture secretary, no doubt with a smile.
A little later in the year, Mr Hunt and Mr Smith had another email exchange - over the plan to spin off Sky News so as to maintain media plurality, while allowing the BSkyB takeover to go ahead.
Mr Hunt was due to make a speech to Parliament, and Mr Smith suggested he should "beef up" the undertaking from News Corp to spin off Sky News.
The original draft suggests "the concessions made by these undertakings will strengthen the editorial independence of Sky News", wrote Mr Smith.
He then added: "Looks good. Only comment is that could we beef up the section on independence - the undertakings that News Corporation have offered would involve Sky News being 'spun off' as an independent public limited company."
'Unexploded ordnance'
Other documents shed some light on how the culture secretary and his department were attempting to influence the coverage of the News Corp bid for BSkyB.
An email exchange between Mr Hunt and his special adviser Sue Beeby make it clear that they will "split" the news that he is minded to refer the bid to Ofcom and News Corp's undertakings in lieu of a referral to the Competition Commission - so it "feels more transparent".
"Definitely think we should split them. We need people to see that your initial response was to refer. Also if we don't, it looks like we've come up with deals behind closed doors. Doing them separately feels more transparent," Ms Beeby wrote.
In short, there does not appear to be a "smoking gun", "unexploded ordnance" or any other apposite political metaphor/cliche loitering with menace.
Mr Hunt survived his verbal inquisition, and this document dump doesn't appear to finish him off either. But it very nearly finishes off anyone brave enough to try reading it all.