Petrol costs: Greening may force retailers to pass on price cuts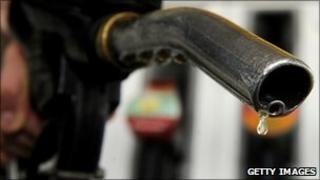 Transport Secretary Justine Greening has said she will consider legislation to force petrol retailers to pass on cuts in the wholesale price of fuel.
The Department for Transport says pump prices paid by motorists have fallen by just 7p despite a 10p fall in wholesale prices since April.
Ms Greening told the BBC she would consider taking further action to ensure motorists "get a better deal".
But petrol retailers said her remarks showed a "lack of understanding".
Petrol prices have fallen back since hitting record levels in March, when unleaded rose above £1.40 a litre.
'Blurred world'
The AA said wholesale costs across northern Europe had dropped more than 16% during May, but petrol retailers had been slow to pass this on to motorists.
Its president, Edmund King, welcomed Ms Greening's comments, saying: "Over the past seven years we have asked governments to act against the blurred world of UK pump prices, which every driver knows shoot up like a rocket and fall like a feather."
A Department for Transport source told the BBC the industry would have a matter of weeks to come up with a voluntary code of conduct to ensure wholesale falls were passed on within a fortnight to the motorist.
But if a scheme could not be agreed, he indicated the government would look at legislation, although the source was unable to say how long that might take.
Ms Greening told the BBC she wanted a voluntary scheme to be agreed.
She said: "That's what we're going to look at first, but if that doesn't work we will look at some of the things other countries have done like Germany, Austria and Denmark, who have taken more mandatory action in this area.
"I'm really determined that motorists get a better deal."
VAT call
Shadow transport secretary Maria Eagle said: "Petrol stations should be lowering their prices when wholesale costs of fuel fall, and it is unacceptable if they are refusing to do so, especially when they are quick to pass on any increase.
"Ministers must also accept their share of responsibility for eye-wateringly high prices at the pumps thanks to their decision to hike VAT on fuel."
She added: "Ministers should temporarily restore the lower rate of VAT to fuel to give much-needed relief to households feeling the squeeze, as well as acting to ensure price cuts are fully passed on to motorists."
Brian Madderson, chairman of the Retail Motor Industry Federation's petrol division, said: "Suggestions that the falling price of oil and wholesale price movements on the continent should dictate further pump price cuts across the UK by independent forecourt operators is damaging to this struggling sector and shows lack of any real understanding of fuel price mechanisms."