Waste bin offenders to face lower council fines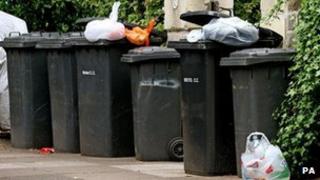 Households who overfill their rubbish bins or put them out at the wrong time will face smaller fines from now on.
The government has cut maximum charges councils can make from £110 to £80, in a move it says will promote "common sense" among officials.
Those who pay up early could be fined £40.
Ministers claim people have been charged for putting bins out an hour too early, but councils insist they do not penalise small one-off mistakes.
Following plans first announced in the waste review last year, the fixed penalties local authorities can hand out have been lowered from £75 to £110 to between £60 and £80. Those who pay early will have charges reduced.
In addition, residents will now only be fined if they are deemed to be causing a "harm to local amenity" - that is, damaging the area by putting out their rubbish in the wrong way.
Encouragement
Environment Secretary Caroline Spelman said: "The threat of a £110 fine for a simple mistake such as putting your bin out an hour early suggests the punishment doesn't fit the crime.
"Today is the first step towards a return to common sense. People should be encouraged to do their bit by putting out their rubbish in the right way, but hefty fines are not the way to do it."
According to figures previously obtained by the Sunday Telegraph, almost 5,000 fixed penalty notices worth £215,955 were issued between May 2010 and April 2011 for offences such as using the wrong sacks for recycling or overfilling wheelie bins.
But Clyde Loakes, vice chairman of the Local Government Association's environment board, said: "Councils do not penalise people who make one-off small mistakes like leaving out their bin on the wrong day, so it is important to put this into perspective.
"These fines are part of the package of tools councils use to clamp down on fly-tippers and people who leave unsightly rubbish, creating a blight on their roads, streets and neighbourhoods.
"Fines are only ever issued as an absolute last resort when nuisance neighbours have persistently left waste piled up in the street and wilfully damaged their local environment or refused to co-operate."