Heathrow night flights: Ministers to consider economic impact of sleep loss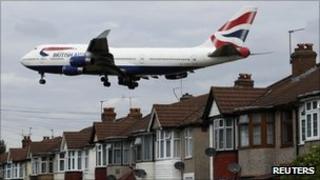 The government says it will consider the economic impact of sleep disruption on people living near Heathrow in any review of night flights to the airport.
Current rules, under which an average of between 14 and 16 flights land before 6am each day, were recently extended until October 2014.
Minister Earl Attlee pledged to balance business and noise concerns in future.
Anti-noise campaigners said they were "pleased" but airlines said there was no "significant evidence" of damage.
The coalition government is coming under increasing pressure from business and many Conservative MPs to reconsider its decision to rule out building a third runway at Heathrow.
At the same time, campaigners are pressing for a ban on flights arriving before 6am - which come mainly from the Far East and the west coast of America - and a phased reduction in arrivals before 6am and 7am to ease the disruption to nearby residents.
'Gentle timetable'
"Local residents are woken at 4am onwards not because of capacity issues at Heathrow but because of limits on departure schedules at other airports," Lib Dem peer Baroness Kramer told peers.
"If the government will not commit to eliminating night flights, will it at least undertake to negotiate with the relevant countries for a timetable more gentle to residents under the flight path in this country?"
Responding for the government, Earl Attlee said any review must "strike a balance between noise disturbance and the economic benefits of night flights".
He suggested that putting pressure on foreign airlines to delay departure times of flights to London, to allow for later arrivals, might cause "problems" in Asia but pointed out that airlines were not allowed to use their noisiest aircraft on routes arriving at this time.
He was urged by Labour's Lord Faulkener of Worcester to consider "the economic disbenefits of the effects of sleep deprivation and other social effects as a result of night flights against the economic benefits of having more planes arriving earlier".
Earl Attlee replied that ministers "would do exactly that" when it came to Heathrow.
However, he said he could not make a similar pledge for Gatwick and Stansted as the number of residents affected by night flights totalled only a couple of thousand, as opposed to nearly 230,000 near Heathrow.
'Vital for UK'
The Heathrow Association for the Control of Aircraft Noise said the issue of sleep deprivation and its economic effects had never been considered before in a review of flight patterns.
It said a report it had commissioned from Dutch aviation consultants Ce Delft suggested the economic disadvantages of night flights into Heathrow outweighed their benefits.
"We have, frankly, never believed the argument made by the airline industry that if 16 night flights were moved to daytime then the economy of London and the UK would collapse," John Stewart, the organisation's chairman, said.
Airlines said they had yet to see any "significant evidence" that sleep deprivation was causing economic damage and pointed out that many people chose to live near to Heathrow because they either worked there or wanted quick access.
"We would certainly not want to see any further tightening of the screw on night flights as we believe it would have a detrimental economic impact," said Simon Buck, chief executive of the British Air Transport Association.
"We certainly believe it is vital for the UK economy that there are night flights because without them it would be impossible to continue serving certain destinations."
And Labour peer Lord Foulkes said the issue that really needed to be addressed was that Heathrow was operating at maximum capacity. "Isn't it about time that the government stopped dithering and made a decision to go ahead with a new runway at Heathrow?"