Tony Blair - The godfather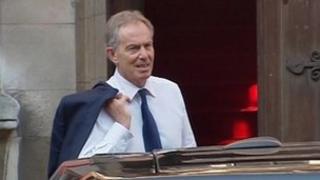 Tony Blair is not a lawyer for nothing. He opened his evidence to the Leveson inquiry today with a guilty plea, but what he was really doing was preparing to declare himself innocent on a much more serious charge
The former prime minister confessed that he had decided to "manage... not confront" the power of the press. In other words, he'd decided to form a relationship with the media which he described as "unhealthy" - a word he said he preferred to "cosy".
He knows the questions which will lie ahead, and so do we, but then we also know - or, at least, can predict - many of the answers.
We already know that Tony Blair is the godfather of one of Rupert Murdoch's children; we already know that as Opposition leader he flew half way round the world to speak to News Corp executives; we already know that the two men spoke regularly in the lead-up to the Iraq War - allegedly more often than the prime minister spoke to his senior ministers.
So, Tony Blair could hardly come to courtroom 73 of the Royal Courts of Justice and claim that he'd kept his proper distance.
The real question about his relationship with Rupert Murdoch is the same one posed to David Cameron. It is the one posed by Tessa Jowell when Tony Blair made her Culture Secretary. She asked her boss whether he'd made a deal with Murdoch on changing media regulation in return for favourable coverage.
Alastair Campbell's former deputy, Lance Price, has alleged there was a deal - albeit unwritten and non explicit.
The key to this is the 2003 Communications Act which lifted the ban on foreign ownership of UK television licences and lowered the bar for so called "cross-media ownership" - making it possible for the Murdoch media group to consider buying Channel Five and to take full control of BSkyB.
Tessa Jowell said in her evidence to Leveson that her boss believed, at first, that the rules should be changed to allow News Corp to take over ITV as well. In the end, they decided against that.
I don't imagine the existence of an unwritten deal can ever be proved but it is, in my view, the most fruitful question to ask.