Lady Warsi: I take expenses allegations very seriously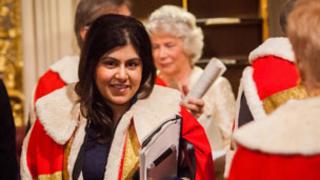 Tory Party co-chairman Lady Warsi has asked a parliamentary watchdog to consider allegations over her expenses.
Newspaper reports have suggested she claimed accommodation allowance while staying with a friend rent-free.
She told ITV News she took the matter "very seriously" and had "ensured" her conduct was within both the letter and the spirit of the regulations.
No 10 said it had confidence in Lady Warsi, but one Lib Dem MP said the police should investigate the claims.
Lady Warsi, who is a member of the cabinet, has said she made an "appropriate payment" to her friend - now her special adviser - Naweed Khan, who was renting the house in which she stayed.
But the owner of the property in Acton, west London, Dr Wafik Moustafa, says he never received any money from her.
She has now referred the allegations to the Lords commissioner for standards, Paul Kernaghan.
A spokesman for Mr Kernaghan said he would conduct "an initial assessment" of the allegations to see whether they were within his remit before deciding what to do.
"If it does he will launch a formal investigation, but we aren't at that stage yet."
'Full co-operation'
The Labour MP, John Mann, had already said he would refer the matter to the watchdog's office.
Speaking during a business trip to Malaysia, Lady Warsi said she would "fully co-operate" with any investigation should it take place
"I believe that being a member of the House of Lords is a privilege," she said. "I take that privilege seriously.
"It is why I have always ensured that my conduct including in relation to expenses and allowances is both in accordance with the law and the spirit of the rules."
In a separate interview with the Malaysian radio station BFM, she said politicians had to be "fairly thick-skinned" and accept getting "a few swipes and possibly a few bruises".
In a statement at the weekend following the revelations in the Sunday Times, the baroness, whose main home is in Dewsbury, West Yorkshire, said she bought a flat in Wembley in September 2007 but it was not due to be ready until the following year.
'Occasional nights'
While it was being finished she stayed predominantly at two hotels, but also for "occasional nights" in Acton with Mr Khan.
She says she stayed there for about two nights a week over a six-week period at the start of 2008 and made a payment "equivalent" to what she was paying for hotel rooms.
The rules for expenses claims by members of the House of Lords, as set out on the Parliament website for the year 2007-08 , say members living outside London can claim a maximum of £165.50 a night.
It does not say if that figure may include additional expenses such as meals. Nor does it say whether receipts are required, although the amount of expenses MPs could claim without a receipt was cut from £250 to £25 in April 2008.
Downing Street said that since the allegations related to a period when the Conservatives were in opposition, it was a matter for the Conservative Party and not No 10.
But a spokesman said the prime minister continued to have confidence in Lady Warsi and she had not offered to resign.
"Clearly this is something which she has apologised for and she said she is happy to cooperate with any investigation," they said.
'Very muddy and blurred'
Lib Dem MP Bob Russell said there was a "prima facie case" for the police to examine the allegations while the former sleaze watchdog Sir Alistair Graham suggested Lady Warsi should relinquish her ministerial and party roles pending the outcome of any investigation.
"At the moment it all looks very muddy and blurred and worthy of a full investigation," the ex-head of the committee on standards in public life said.
In a separate development, Lady Warsi admitted not fully declaring rental income from the Wembley flat after she moved out in June 2010.
The baroness said she took full responsibility and had informed the registrar of Lords' interests when she learned of the "oversight" this week.