Vince Cable: 'Don't lecture eurozone'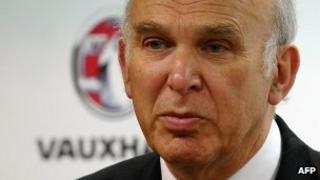 The UK should learn from Germany's successful economy, rather than lecturing the eurozone, Business Secretary Vince Cable says.
Speaking to the Independent on Sunday after a visit to Germany, he said "any sense that Britain is lecturing is badly received and is not appropriate".
He also said that being called a socialist who did not support business was "absolutely ludicrous".
He was described as such by venture capitalist Adrian Beecroft.
Mr Beecroft's report, commissioned by the prime minister, on boosting growth was published last week. He suggested that bosses should be able to fire staff without giving a reason.
'Some humility'
After his return from Germany on a visit with Deputy Prime Minister Nick Clegg, Mr Cable said: "It is quite legitimate to point out that, although we are not in the eurozone, we are affected by it, and therefore can reasonably have a view.
"But I think any sense that Britain is lecturing is badly received and is not appropriate. I certainly approached my visit [to Germany] with some humility, because they are a very successful country and we have got to learn from them. Our credibility rests on how well we do with our economy."
His comments come after Prime Minister David Cameron said European leaders must come up with a "decisive plan" for Greece and to get EU economies moving.
On the future of the single currency, Mr Cable said the Germans "don't feel any need to panic".
He said: "There is a 'crisis, what crisis?' mood. Their economy is strong, it is doing very well."
Last week, revised figures showed that the UK economy shrank by 0.3% in the first three months of the year, more than previously thought.
Mr Cable defended his stance on helping businesses, saying of being described as a socialist that "one or two people apparently [have] a political axe to grind. I don't want to get embroiled in a punch-up with them. I am just concentrating on getting on with the job."