Top Chinese official cancels UK visit over Dalai Lama meeting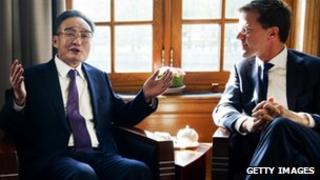 A senior Chinese leader has cancelled a proposed trip to the UK, a British Embassy spokesman in Beijing has confirmed to the BBC.
China's chief legislator Wu Bangguo - officially second ranking in China's hierarchy - is on a tour of Europe.
Sources say the cancellation came after China learned that British PM David Cameron planned to meet the Dalai Lama.
Mr Cameron and Deputy Prime Minister Nick Clegg met the Dalai Lama in London earlier this month.
At the time, China's foreign ministry said the meeting had "seriously interfered with China's internal affairs".
Mr Wu, who is chairman of the standing committee of China's National People's Congress, has held talks with EU leaders including Dutch Prime Minister Mark Rutte and Spanish Prime Minister Mariano Rajoy on his current tour of Europe.
'Regret'
BBC China Correspondent Damian Grammaticas said the cancellation of Mr Wu's visit was a clear signal of China's displeasure with the UK.
He said it would have been a "brief but symbolic" visit from the most senior Chinese to travel to the UK in recent years.
China warned of "serious consequences" at Mr Cameron's decision to meet the Dalai Lama, the spiritual head of Tibetan Buddhism.
But Downing Street said he was "an important religious figure" who had met previous British prime ministers.
The Dalai Lama lives in exile in India, travelling the world to seek support for more rights for Tibetan people.
He is regularly vilified by the Chinese government, which accuses him of trying to split Tibet, with its separate culture and language, from the rest of China.
According to the Guardian newspaper , a spokesman at the British embassy in Beijing said the cancellation of Mr Wu's visit was a matter of "regret".
"There was a proposed visit by Wu Bangguo which has not happened.
"We very much regret that chairman Wu was not able to travel to the UK. His visit would have been a good opportunity to continue deepening UK-China relations. We would welcome future visitors from the National People's Congress to strengthen the UK-China dialogue," he added.