Gangmaster licensing plan prompts exploitation fears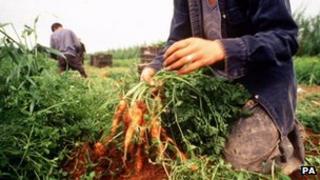 Fruit pickers, shellfish gatherers and farm labourers could be at greater risk of exploitation under plans to reduce regulation of gangmasters, unions say.
Ministers want to scrap automatic inspections for businesses applying to use or supply groups of workers.
They said the Gangmasters Licensing Authority should focus "on the worst excesses in the areas it regulates".
But the Trades Union Congress warned the proposals would "reduce protection for many vulnerable workers".
Agriculture minister Jim Paice announced the plans as part of the government's so-called 'red tape challenge' to reduce regulations and inspections.
Government adviser and venture capitalist Adrian Beecroft had recommended the Gangmaster Licensing Authority be scrapped in his controversial report on how to promote economic growth.
'Routine exploitation'
The watchdog was established in the wake of the 2004 Morecambe Bay accident when 23 cockle pickers were drowned as they worked gathering shellfish for criminal gangmasters.
It seeks to protect workers from exploitation in agriculture, shellfish gathering and food and drink processing and packaging. Any person or business wanting to act as a gangmaster must apply for a licence - issued by the Gangmaster Licensing Authority after an initial inspection.
But under the government's proposals this initial inspection would be removed.
Director of strategy Darryl Dixon said the licensing authority had been trialing a "light touch" inspection regime for the past year in the forestry industry - a sector considered low risk.
Mr Dixon told the BBC that those wishing to become gangmasters would now only be inspected if checks on other government databases alerted the authority's suspicions.
The government is also proposing to "focus forensically on gross abuse of workers by unscrupulous gangmasters".
Brendan Barber, TUC general secretary, said the changes to the licensing regime would reduce protection for workers.
"It will now be much easier for new gangmasters - including those who have lost licenses previously - to set up without facing proper checks," he said.
Mr Barber said it was "right to prosecute organised crime" but that "too rigid a focus will send the signal that routine exploitation will be ignored by the authorities".
Government minister Mr Paice said: "Responsible employers who play by the rules will be freed from unnecessary costs and bureaucracy, allowing them to get on with the important job of running their business, while safeguarding the rights of their workers."
And welcoming the changes, Gangmaster Licensing Authority chair Margaret McKinlay said: "We've already been looking to apply a light touch approach to licensing the businesses we regulate and have started to focus our efforts on areas where exploitation of workers may be more of a problem."
Labour's shadow agriculture minister Huw Irranca Davies welcomed the government's rejection of Mr Beecroft's recommendation to scrap the Gangmaster Licensing Authority.
But he said Labour "will not accept any watering down of its powers" and would "guarantee that the most vulnerable workers in our society are not abandoned".