Nick Clegg refuses to rule out accepting peerage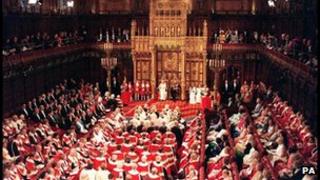 Nick Clegg has refused to rule out accepting a peerage despite leading reforms to make the chamber democratic.
Scottish National Party MP Angus MacNeil asked if the deputy prime minister would "lead by example" and guarantee that he would not become a peer if democratic reforms failed.
Mr Clegg declined to answer, but said he hoped the reforms would succeed.
The government will publish a bill on House of Lords reform "well before the summer recess", he confirmed.
In the Commons, the deputy prime minister also suggested he supported moving the House of Lords outside London.
Conservative MP Jake Berry asked Mr Clegg if it was time "to send the ermine up the motorway" to cities like Manchester or Sheffield.
Mr Clegg, who represents a constituency in Sheffield, replied that it was an "excellent idea" and committed to including the "novel" proposal in the government's thinking.
"On a more serious note, all three party manifestos put before the country in May 2010 committed us all collectively to House of Lords reform. I think we can proceed with this, if we were to honour our manifesto commitments, quickly and swiftly", he added.
'Whiff of ermine'
The government included plans to reform the House of Lords in the Queens Speech at the beginning of May.
It wants to ensure the majority of its members are elected and the size of the chamber is substantially cut.
But the reforms have proved controversial among MPs and peers, some of whom see reform as a distraction from more serious issues like the economy.
Mr MacNeil said: "Given the House of Lords is often seen as a lifeboat for ailing political careers ... would you lead by example and guarantee you will not take a seat in the Lords in the event of your attempts at reform not being successful?"
Mr Clegg replied: "I certainly hope the reforms will be successful."
The deputy prime minister was asked to explain why some Liberal Democrat peers did not support an elected second chamber by Labour MP David Winnick.
He suggested former Liberal Democrat leader Lord Ashdown was a "lone voice" in support of the reforms.
Mr Clegg replied: "The power of a whiff of ermine on people's opinions on the reform of the House of Lords has never failed to amaze me.
"All I can say is that the clear manifesto commitment of his party, my party, the Conservative Party was in favour of completing this century long debate on the reform of the other place and I think we should now get on with it."