MP heading dog laws investigation reveals Alsation attack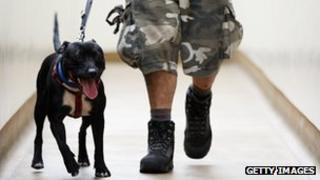 An MP investigating proposals to tackle the problem of dangerous dogs has revealed she was bitten by an Alsatian.
Conservative Anne McIntosh said she did not press charges because the owner was a party supporter.
The environment select committee, which Ms McIntosh chairs, has launched an investigation into government plans to reform dangerous dogs legislation.
Campaigners welcomed the MPs' inquiry but said the government's plans to keep track of dogs did not go far enough.
The investigation comes amid growing concern about recent rises in dog-related offences and hospital admissions. Government officials estimate there are around 210,000 people attacked in England every year.
Four children and one adult have been killed by dogs on private property since 2007. But the Dangerous Dogs Act, which was introduced in 1991 after a spate of fatal attacks, only covers the behaviour of dogs on public land.
Dog licences
Conservative chairwoman Ms McIntosh said the committee's investigation would look at whether the government plans to reform the act go far enough.
"The time is right now to review every aspect of the Dangerous Dogs Act," she added.
According to the Department for Food and Rural Affairs, convictions for dog-related offences increased by 39% between 2009 and 2010.
And the number of people being admitted to hospital with dog bites and other injuries has more than doubled - from 2,915 in 1997 to 6,118 in 2010. In 2009 alone, the government say dog attacks cost the NHS £3.3 million in treating the most serious cases.
Ms McIntosh said she had a "vested interest" in the committee's investigation because she was bitten by a large Alsatian when out canvassing during her first ever election campaign.
"I understand a little of the trauma of such an incident," Ms McIntosh said, adding: "I'll be honest... the dog was owned by a Conservative supporter so I decided it was not politic to press charges."
Proposals outlined by the government in April contained four main measures aimed at improving dog laws:
Compulsory microchipping
Extending existing laws to cover private property
Increasing the fee owners have to pay if they want their dog exempt from the government list of prohibited types
Allowing owners to hold on to their dogs until the outcome of court proceedings
Launching the investigation at Battersea Dogs & Cats Home, environment committee chair Ms McIntosh said she was starting without any preconceptions about the government's plans and the cause of the apparent rise in dog attacks.
But she pointed to the scrapping in 1987 of 'dog licences' as a potential reason for changes in dog and human behaviour. All dog owners were theoretically required to hold a 37p licence, but in reality only 50% did so.
"It strikes me there must be a correlation between dog licensing being lifted in 1987 and the Dangerous Dogs Act being introduced, which was uniformly believed to be such a bad act that it needed to be reviewed 10 years later."
Ms McIntosh said she was not convinced microchipping was a solution to the problem because it would not "reach the criminal underworld".
An RSPCA spokeswoman said the government's plans did not go far enough and ministers should reintroduce dog licences to link owners to their dogs. The animal welfare charity want to see the compulsory licences brought back, the fees from which would pay for enforcement, she said.
The committee will look into both animal welfare issues and Home Office plans to introduce measures to tackle anti-social behaviour involving individual dog owners.
"There is almost a criminal underworld growing up around dogs as status symbols which the Home Office is trying to address," Ms McIntosh said.
Campaigners have called for the introduction of dog control notices - known as anti-social behaviour orders for dogs. So-called 'dogbos' are in place in Scotland where authorities can tackle problem animals by issuing tailored restrictions to individual owners.
A spokesperson for the Dogs Trust weclomed the inquiry but said they were frustrated that the government had failed to implement "compulsory microchipping of all dogs to connect owners with their dogs and preventative measures to reduce the number of dog attacks".