Steve Hilton's civil service attack uncovers coalition tensions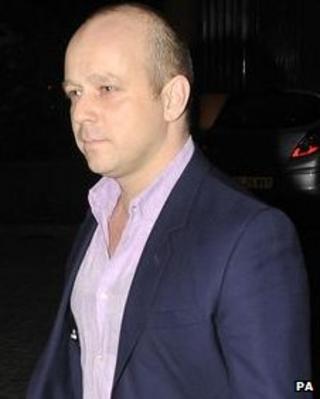 Steve Hilton's parting shot as he left No 10, was to call for a slimmed down - some might say, an emaciated - civil service, and further welfare cuts.
Mr Hilton was a long-standing adviser to the prime minister, at David Cameron's side (apart from a brief spell in the States) in opposition and in government.
But his latest advice has not been readily embraced by Mr Cameron's Lib Dem partners in coalition.
Chief Secretary to the Treasury Danny Alexander delivered a withering response at a lunch for political journalists on Thursday.
With Mr Hilton in mind, he said most people don't fire off memos when they leave an employer, adding "on their last day, they usually bring in a cake".
Further indicating that Mr Hilton's views were sticking in the throat a little, Mr Alexander talked about his own "talented and committed" civil servants in the Treasury.
And for his audience's consumption over lunch, he made it clear that no decisions had been taken on any further reductions in the welfare budget.
Sources at the Department of Work and Pensions are sceptical about the capacity to make further deep cuts.
For good measure, Lib Dem sources say they have also seen off Steve Hilton's plans to make it easier for private sector employers to "hire and fire" workers.
But in the next few weeks, when a civil service White Paper is published, the coalition as a whole will have to decide how radical their reforms to the "Rolls Royce" service should be.
Can it run more efficiently on less fuel, or does it need a more drastic redesign - something altogether more compact?
With 434,000 staff, the civil service is the smallest it has been since the Second World War. That's down from half a million when the coalition came to power.
Allies of Steve Hilton believe this still represents a bloated bureaucracy - a hundred times larger than the number of staff that ran the Raj.
'Not all Sir Humphreys'
But it would be mistaken to think that the majority of civil servants are mandarins - hundreds of thousands of Sir Humphreys who are experts in alliteration, obfuscation, emollience and procrastination.
Numbered amongst the civil service are nuclear scientists at DECC; agronomists at DEFRA; economists at the Treasury; and "frontline" staff in local job centres.
But what of the Sir Humphreys?
Well there are fears in some circles that too few, rather than too many, are staying within the civil service; that "institutional memory" - and experience at how to pull the levers of power - is being lost.
More than a quarter of the 3,700 senior civil servants who were employed at the time of the last election have been lost.
In some departments more than a third of senior civil servants have moved on - including some of those at the Treasury who were involved in tackling the banking crisis.
Performance concerns
And - off the record - some senior civil servants are worried about the prospect of more rigorous "performance measurement" will have on the morale of the remaining staff.
Broadly speaking, there is an acceptance for the need to cut numbers and for pay restraint.
This even applies, grudgingly, for pensions reform but there is scepticism bordering on resistance to appraising staff in a manner which is similar to the system used in big private sector consultancies.
There, it is argued, it is easier to assess individual performance because it is more straightforward to measure a member of staff's ability to generate new business or profits.
In the highly inter-connected world of Whitehall it is more difficult to judge who are the star performers, and who are seriously at risk of the sack.
But clearly ministers do want a more robust way of deciding who should be candidates for the exit door as the civil service continues to shrink - albeit by a far smaller degree than Steve Hilton would like.
Although there may be disputes over how to do this, ministers are also likely to want to bring in more leaders from the private sector and to put more civil servants on fixed-term contracts.
New blood
Reforms of this kind date back to the Thatcher era and were also championed by Tony Blair.
But insiders say that so far, the transfusion of new blood hasn't always lead to a healthier outcome.
Some newcomers go native; others leave in frustration. But less reported is the resentment generated by having employees who carry out similar functions on very different incomes.
And the tax arrangements for some civil servants who were brought in temporarily from the private sector have already led to an outcry and swift reform.
But the role of the civil service has really come into sharp focus since the post-budget "omnishambles" or to use the foul-mouthed term borrowed from BBC satire The Thick of It, which is in common parlance in Whitehall, "the clusterf**k".
Rows over tax changes affecting charitable donations, hot food (including, famously, pasties), pensioners and much more have pummelled the coalition.
Some civil servants were blamed for not advising the government in advance of the potential pitfalls; others for putting forward potentially unpopular policies for ministerial approval.
But civil servants aren't the sole scapegoats for the shambles.
Apportioning blame
Danny Alexander warned ministers not to "get in to the habit" of blaming civil servants when things go wrong. That's probably good advice as ministerial attacks on the mandarins and government leaks appear to rise in direct proportion.
Backbench Conservative MPs and some ministers instead blame "communications" at the heart of government for the recent troubles.
Some special advisers are seen as not "political" enough or, bluntly, not competent enough.
Some also say there is no strong "vision" coming from the centre. It remains to be seen if Steve Hilton's departure makes that perceived problem better or worse.
The coalition came to power determined to cut the number of special advisers, to give ministers their head, and to end the informal style of "sofa government" that was a hallmark of Tony Blair's time in Downing Street.
But behind all the headlines about the civil service or the omnishambles, you will find the number of political advisers is once again creeping up; that Mr Blair's idea of a "delivery unit" in Downing Street is no longer mocked; that the centre is taking a closer interest in what the periphery gets up to.
And that yes, No 10 does see the need to "get a grip".
And as part of that process, further - if limited - civil service reform is inevitable.