Lobbying register 'to be introduced by 2015'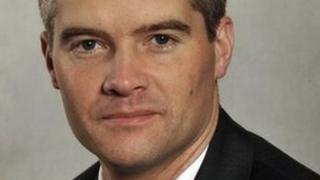 The government is "determined" to introduce a register of lobbyists before 2015, constitutional reform minister Mark Harper has said.
At a Commons committee hearing, Mr Harper pledged to publish a draft bill during this parliamentary session.
Labour criticised the coalition for failing to include legislation on lobbying in the Queen's Speech.
But the minister told MPs that any suggestion that the reforms had been abandoned was "misleading".
At the Commons political and constitutional reform committee, Mr Harper defended the proposals as MPs described them as "shoddy" and "weak".
Labour backbencher and committee member Paul Flynn listed a string of recent lobbying scandals to have hit the government, despite Prime Minister David Cameron's 2010 prediction that lobbying was "next big scandal waiting to happen".
The Labour MP argued there was a "gulf" between the "splendid rhetoric" of ministers' announcements on lobbying reforms and the reality of the current proposals under consideration.
'Transparency'
He demanded to know why had the government "retreated" from publishing a code of conduct for lobbyists.
The government has held a public consultation on plans to create a register of lobbyists acting on behalf of third parties.
Under the plans, when meetings are held between such lobbyists and ministers or other parliamentarians the names of the organisations they are representing will be made public.
A summary of responses to the consultation will be published before Parliament's summer recess, Mr Harper revealed.
Draft legislation would enable detailed scrutiny of the plans to begin during this session of Parliament, he added. The session is expected to last until April next year.
But Mr Flynn said the reforms would not constitute "worthwhile transparency" unless the content of discussions with lobbyists was also divulged.
Mr Harper said that the level of detail to be revealed about meetings would be "meaningful", arguing that his plans would strike the right balance between transparency and burdensome regulation.
He said the government had no intention of establishing "another quango" to regulate lobbying, which he described as a "perfectly reputable activity".
"Transparency is the way you deal with the concerns that people have got," he told the committee.
The government would not be rushed on the proposals, Mr Harper said, since it was important to ensure that it found a "long-lasting solution".
"We may not be going as fast as some people would like," he conceded, "but... the devil in this subject is in the detail."